Former Swing Doctor Prescribes Reality-Based Rock
Andrew Argyrakis

CCM Magazine

2004

10 Jul

COMMENTS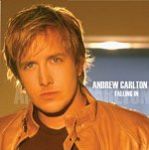 Artist:    Andrew Carlton
Label:   Flying Leap

Late '90s cool cats may recall some snappy side-stepping for the "Andrew Carlton and the Swing Doctors" CD, the precursor to this official debut featuring production by partners Danny Duncan (Newsboys, Michael Redman), Dan Needham (Jump5, Kindred 3) and Travis Wyrick (Pillar).
With his casual blue-eyed soul voice, along with a backing band's refreshing beat bounces and contemporary rhythms, songs like "Taking on the World," "Freedom Song" and "God Sends" deal, respectively, with radical evangelism, Jesus' crucifixion and loss of a loved one.
Even more personal are the pleading "Jesus Hold Me" (about wanting to turn over a new leaf of faith), the painful prodding of "Home" (an account of his parents' divorce) and the rousing hand-clapper "Freedom Song" (paralleling America's defending soldiers with Christ's ultimate sacrifice).
No matter if they're framed as expedient guitar-guided rockers or sensitive, soft-spoken ballads, Carlton has taken a highly approachable new direction.

© 2004 CCM Magazine.  All rights reserved.  Used with permission.  Click here to subscribe.