Hymns: All Things Bright and Beautiful
Gregory Rumberg, CCM Magazine
Tuesday, April 19, 2005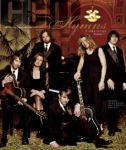 Let's face it: Hymns suffer from an image problem in many church circles today. Revered, yet dusty and quaint. Beautiful and insightful … as in that special way ninth grade lit teachers preach that Beowulf matters and makes sense.
But it's difficult in worship services today to find words resembling Joseph Hart's 18th century hymn "Come, Ye Sinners:" "Come, ye sinners, poor and wretched, weak and wounded, sick and sore; Jesus, ready, stands to save you, full of pity, joined with power. ..."
That's all about to change.
New albums dropping now and later this spring by the likes of Amy Grant, Ashley Cleveland, Out of Eden, Jars of Clay and a slew of others spotlight church hymns. Works from the familiar, such as Out of Eden's "Immortal, Invisible, God Only Wise," to the uncommon, such as Jars of Clay's recording of "Thou Lovely Source of True Delight," are cloaked in new, stylized tunes, landing in listeners' ears with straight-from-the-garden freshness. Such recasting is a practice that's existed among church musicians for centuries, but fell out of fashion during recent generations as particular texts started to be associated with specific tunes.
Is this another worship trend? Just happy coincidence? Some musicians say the modern worship movement was bound to swing another direction. Music tastes change. After all, just look at 2004's year-end album sales charts. According to SoundScan the genre of "modern worship" didn't even crack the top 10 of the year's best-selling Christian albums. Either way, worship continues to evolve.
So, brace yourself. The hymnal of today may be no further away than your iPod. If that seems strange, try thinking about what it would be like to explain digital downloads to hymn writers like Martin Luther (1483-1546), Charles Wesley (1707-1788), Fanny Crosby (1820-1915), Isaac Watts (1674-1748), Thomas Dorsey (1899-1965) and Anne Steele (1716-1778).
Discovering Identity
Theories vary, but historians suggest changing musical tastes — especially among "Baby Boomers" and as illustrated by the rise of praise & worship music during the last 30-plus years — and the diminishing draw of denominational churches contributed to the result that many Christians today have never sung "Come, Ye Sinners" and thousands of other church hymns typically characterized by a consistent meter and a four-line verse structure with a progressive theme.
Christian music's leading lady Amy Grant is glad that's changing. With more than 25 years in music, Grant's seen plenty of musical preferences ebb and flow. "I think what's going on today is a timely reaction to what's going on in the church. There's been so much interest in praise choruses. Now I think it's the pendulum swinging back the other way to reconsider hymns again," she says. "What I love about hymns is that they are steeped in theology. They go so, so deep into your soul."
The idea of a hymn is Greek, intending to be a song of praise in honor of the gods, heroes and conquerors. Biblical New Testament writers adapted the concept, narrowing Christian hymns to become praise songs honoring God, as found in Paul's writings to the Ephesians and Colossians. They complemented the Jewish (and later, Jewish convert) tradition of singing the Psalter. Across centuries and into today, hymns act like vessels containing fragments of Christian thought. They excel at praising God for being God — and at reminding believers that we are not God.
Grant affirms hymnody's ability to help shape personal and collective identity. They reconnect her, she says, to simpler times growing up in Nashville, Tenn., as a young musician soaking up like a sponge whatever church music she could find. "It's like going to a family reunion," she says. "You might not want to go at first; but once you're there and you start hearing stories, it's pretty amazing. You realize these stories are part of who you are." Hymns remind us, Grant says, that "this experience of faith is so much broader and deeper than what is before us today."
Have something to say about this article? Leave your comment via Facebook below!
advertise with us
Example: "Gen 1:1" "John 3" "Moses" "trust"
Advanced Search
Listen to Your Favorite Pastors