iWorship Next: The Next Generation
J. Gary Walker, Songs4Worship.com
Thursday, October 07, 2004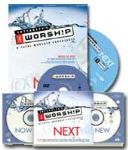 The gift of vision is often a double-edged sword in today's world. Pictures that speak of such disparate things as war and peace, love and hate, and freedom and tyranny crowd our line of vision on a daily basis. At times we see more of the world than we would care to. It pays to remember, however, that God gave us our senses to enable us to experience the universe that we live in – a universe that reflects the majesty of its Creator. It makes sense, then, that those same senses might allow us to experience Him in some fundamental way that logic and reason cannot.
The success of Mel Gibson's film, "The Passion of the Christ," is a well-known, contemporary example of how intensely powerful images that portray the love of Christ can be, among believers and non-believers alike. Through the medium of film, Gibson allowed viewers to experience a small part of what Christ endured for those he loves. Believing, of course, must not rely on seeing, but those who do believe can enter an entirely new dimension in the way that they understand and worship their God. 
This hunger for a visual element in worship, then, suggests that the postmodern believer is seeking something deeper, more experiential. Integrity Music, in response to this need for a visually oriented approach to worship, released their iWORSHIP series in 2002. Produced in partnership between Integrity Music, Maranatha! and INO Records, iWORSHIP was intended to give believers a total, well-rounded worship experience. To date, the iWORSHIP product line includes three double CDs, a children's CD, a Christmas CD, songbooks, CD trax, devotional books, a Bible, and DVDs created for use in home and corporate worship settings.
The DVD component of the iWORSHIP collection - the audiovisual portion that has since become the hallmark of iWORSHIP - offered the most advanced audio-visual presentation features to give worship leaders and music pastors options for creating a personalized worship environment. With three audio modes, "on/off" lyric choice with on-screen placement options and pre-programmed three-song themed worship sets, the DVDs became an instant sensation. "We have used the worship DVDs in our worship service and have in fact built a whole worship service around them," said Steve Hendricks, a worship leader from Akron, Ohio. "They are awesome!"
 
To say that the iWORSHIP series was merely a success, however, would be an enormous understatement. Artists like Michael W. Smith began using iWORSHIP videos in their concerts, and churches around the world reached out for this new innovation in technology. Worship leader and songwriter Paul Baloche quickly became a fan of the iWORSHIP experience. "iWORSHIP is an awesome new tool to inspire worship in our congregations," says Baloche. "It provides breath-taking creative visual images that enhance the meaning of the song without distracting people from worshipping God."
Technology, much like any other tool, is only as honorable as those using it, and iWORSHIP is a fine example of how it can be used to further help believers experience their God. Integrity has since added to the technical versatility of the visual portion of iWORSHIP by creating MPEG libraries, which allow users to incorporate individual videos into presentation software programs such as PowerPoint or MediaShout, enabling them to fully customize their worship experience.
The Next Generation

Fast-forward to today as Integrity unveils its newest line: iWORSHIP Next. The new line will contain a new 33-song double CD, CD trax, a transposable songbook, and the concurrent release of the newest resource DVDs. Rather than just an old face with a new name, however, iWORSHIP Next is a definitive answer to a question that the folks at Integrity believe the church is now asking. "Today's worship leaders and worship music fans are among the most sophisticated consumers and they ask for creativity and innovation in the music products they buy," says Danny McGuffey, chief marketing officer for Integrity Media.
Have something to say about this article? Leave your comment via Facebook below!
advertise with us
Example: "Gen 1:1" "John 3" "Moses" "trust"
Advanced Search
Listen to Your Favorite Pastors