Say It Loud - Music Review
David McCreary

Music Reviewer

2003

6 Jan

COMMENTS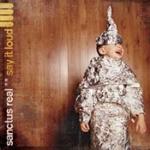 Artist:   Sanctus Real
Label:   Sparrow Records
Drawing from classic rock and modern pop nuances, Ohio-bred Sanctus Real's label debut starts strong and never lets up.  Former Grammatrain vocalist Pete Stewart capably assists in the production, but the quartet itself provides the firepower on this commanding and cohesive release.
Shredding guitar riffs, crisp harmonies and stomping rhythms fuel the project, especially on the richly melodic title track and the bombastic standout "Audience of One."  The band even displays a sensitive side with "I Love You," a graceful ballad with a sound that suggests Incubus sharing coffee with Remy Zero.  Best of all, the beautiful message of spiritual redemption rings true throughout this amazing project.
Used by permission.  CCM Magazine © 2003  Click here to subscribe.