Shawn McDonald: Rebel With a Cause
Christa A. Banister, CCM Magazine
Tuesday, May 09, 2006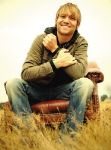 Soft-spoken, sincere and even a little shy in the spotlight, Shawn McDonald hardly seems the rebellious type. But that's exactly how he describes his attitude about making his second studio disc, "Ripen" (Sparrow).

"I think I got a little risky this time," he says by phone from Ashland, Ore., where he's playing a show later this particular Monday evening. "I guess I'm a rebel in the sense that if people expect something from me, I'll naturally go a different way."
While he's quick to admit he's not into switching things for shock value's sake, McDonald does know that fans might be a little surprised by the lack of blatant pop songs on "Ripen." "With this record, I think a lot of kids are like, 'Where are the songs like "Take My Hand" and "Gravity?"'" he confesses. "Basically, they aren't here. They will probably show up again on future records, but coming into this record, I was like, 'You know, it's not about writing catchy pop songs. It's about moving the heart.' So I tried to make a record that was genuine, about who I am and what I wanted to say. And I believe and pray that, if people take the time with these songs, God will use them to draw people closer to Him."
Slow Train Coming 
When writing songs for "Ripen," McDonald is the first to admit that he was a little intimidated by the process. Before he signed with Sparrow Records and released "Simply Nothing," McDonald had several years, rather than several months, to craft his material. With "Ripen," however, he was on a much tighter schedule. "I definitely had to be a little more intentional and serious about my writing this time," he says. "But that was a good thing ultimately because it really stretched me."
And it doesn't hurt, either, that he had some spectacular scenery to be inspired by as he wrote about a third of the tracks (including "Ripen"'s moody, heaven-minded opener, "I Want to Be Ready") on a train ride from Germany to France. "Basically, any time I would think of a topic I'd want to write about, I would just open up a new Word document on my computer and write. Then any time I'd get stumped, I'd just move on to the next one. Some songs were finished, some weren't," McDonald relays. "I was going through a really emotional period. I was passing some really incredible history – some old, old buildings, cathedrals and countrysides. I think I was overwhelmed because it was all so moving. Many of the songs were inspired during that time. Ultimately, Europe is such a different place than America, so enchanting."
Tying the songs of "Ripen" together are three interludes that showcase more of an experimental side of McDonald, whether it's the free-style rap of "Ramblings of a Beggar," the Revelation-inspired "The Rider on the White Horse" or the entrancing beats of "Imago." And stirring the pot up musically is something that McDonald aspired to do on "Ripen" with the acquisition of several new musical instruments – an Indonesian Timor guitar, a broken piano he picked up at a Seattle thrift store and several others he found at flea markets and, of course, on eBay. "That's part of making music; you can make music with anything. You could hit on the arm of a chair with sticks and get the kind of drum sound you like," McDonald says. "We really wanted something that wasn't typical for a studio recording and would also be really fun to play live."
He describes "Ripen" as "a journey over hills, down valleys and to new experiences." And for the optimum listening experience, it's also a project that's meant to be enjoyed from start to finish. Yes, "Ripen" is an anomaly in the iPod generation where singles are often cherry-picked and downloaded without much regard for the rest of the disc. Fans know they'd be missing out to take such an approach with McDonald's work. Consider their response when "Ripen" released in March. The album debuted at No. 1 on the Christian retail chart and at No. 2 on Billboard's Heatseeker chart, selling more than 9,300 copies its first week out.
Have something to say about this article? Leave your comment via Facebook below!
advertise with us
Example: "Gen 1:1" "John 3" "Moses" "trust"
Advanced Search
Listen to Your Favorite Pastors