August 1
"Whoever then humbles himself as this child, he is the greatest in the kingdom of heaven." 
Matthew 18:4
Three things about a child that could have drawn the Lord's focus: First, children know the limits of the load they can carry. Second, a child understands he or she doesn't understand everything. Third, a little one is willing to rest in the load-bearer and source of answers. Asking is one of a child's most notable features. They especially love inquiring, "Why?" But neither are they timid about crying, "Help me, daddy!" Greatness in the Kingdom of God is recognizing human limitations, coming to the Father for help and understanding, and resting in His arms and answers.
Click here to sign up for your free Winning Walk newsletter!
---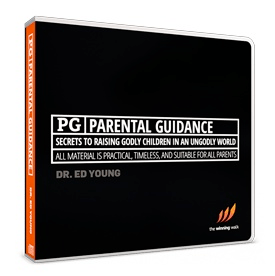 Transform how you think about parenting!
Most anyone can become a parent, but successful parenting eludes so many. Even many Christian families find themselves spiraling out of control as their children fall victim to drug and alcohol abuse, sexual promiscuity, and even suicide.
 
That's why Dr. Ed Young put together his easy-to-follow 3-message CD series, Parental Guidance. In it, Dr. Young reveals proven truth that every mother, father, and grandparent can immediately embrace in order to build and strengthen their family.
 
Parental Guidance is our gift to say thank you for your donation below to help share proven truth through The Winning Walk's broadcast ministry. We pray it transforms the way you think about parenting!