December 23
"Then the glory of the LORD will be revealed, And all flesh will see it together; For the mouth of the LORD has spoken" … And the Word became flesh, and dwelt among us, and we saw His glory, glory as of the only begotten from the Father, full of grace and truth. - Isaiah 40:5; John 1:14
If Jesus physically walked into a church, stadium, or some other assembly, many believe the audience would stand and clap and shout. Not so. We would run and hide. We would be mortified in the face of the brilliant glory, the Shekinah in Hebrew. Three of Jesus' disciples beheld the glory for a moment, on the Mount of Transfiguration. For a brief time, the physical garment was dropped, and they saw Him as He is. Someday all flesh will see Jesus in His full splendor, and the appearance will be terrifying to those not cleansed by His blood, but a welcome sight to those who've given Him their lives.
Click here to sign up for your free Winning Walk newsletter!
OUR THANK YOU TO YOU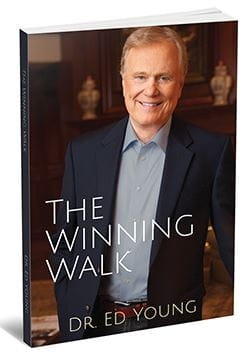 Discover God's Path for You!
Many people today live in defeat, never finding God's will for them. But God wants so much more for you!
That's why we're excited to reserve for you a special 35th Anniversary Edition of Dr. Young's book that started it all,
The Winning Walk,
scheduled for re-release later this year. In it, you'll discover what it takes to walk victoriously as you discover the path God has for you.
So be sure to reserve your copy of
The Winning Walk
when you give your gift below. And thank you for your support to share the proven truth of God's Word with more people around the world.