December 28
He is before all things, and in Him all things hold together. - Colossians 1:17
"Where's the 'missing matter'?" That's the question physics has asked for decades. There seems not to be enough matter in the universe to hold it together, yet there is cohesion. Jesus Christ is the One holding everything together. Body, soul and spirit exist in a world caught in the spiritual gravity and entropy of a fallen system. Powerful forces pull at them, disintegrating the human being. But to the extent Jesus Christ is allowed to reign in a human heart, He holds all the facets of the human being together, in wholeness. He keeps us from flying apart.
Click here to sign up for your free Winning Walk newsletter!
OUR THANK YOU TO YOU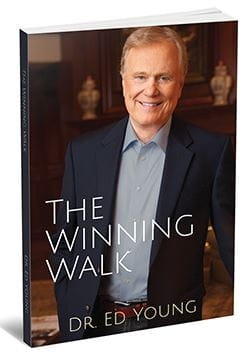 Discover God's Path for You!
Many people today live in defeat, never finding God's will for them. But God wants so much more for you!
That's why we're excited to reserve for you a special 35th Anniversary Edition of Dr. Young's book that started it all,
The Winning Walk,
scheduled for re-release later this year. In it, you'll discover what it takes to walk victoriously as you discover the path God has for you.
So be sure to reserve your copy of
The Winning Walk
when you give your gift below. And thank you for your support to share the proven truth of God's Word with more people around the world.