October 18
He who dwells in the shelter of the Most High Will abides in the shadow of the Almighty. I will say to the LORD, "My refuge and my fortress, My God, in whom I trust!" - Psalms 91:1-2
Anxiety disorders cost Americans more than $40 billion annually. Anxiety disorders manifest themselves in two ways—specific phobias, like fear of spiders or flying, and social phobias, fear of scrutiny, embarrassment or humiliation in the eyes of others. We fear being exposed to threats and we fear our flaws being exposed to other people. Lurking in every person's sub-conscious is the dread of ultimate exposure before God in judgment. But to be in God is to be inside the refuge nothing can penetrate.
Click here to sign up for your free Winning Walk newsletter!
OUR THANK YOU TO YOU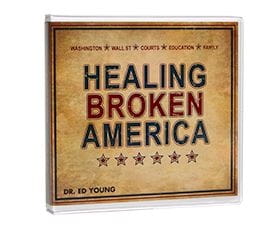 Be a Part of the Healing of Broken America!
A quick glance at the nightly news, the newspaper, or the Internet reveals that we are experiencing one crisis after another. Washington is broken, Wall Street is broken, the
courts are broken, the schools are broken. Even the
family
is broken!
In his 6-message CD series,
Healing Broken America
, Dr. Ed Young addresses head-on the major areas in our country that must change if we are to see our nation restored. He clearly defines the five areas where America is broken, and then offers common sense, biblically-based remedies for healing those wounded areas. Learn how to be part of the solution for America.