October 22
But godliness actually is a means of great gain when accompanied by contentment. - 1 Timothy 6:6
Godliness is the greatest possession. The possibility of loss drives the worries that drain us of contentment. But when we fix our eyes on the greatest possession—the one that stands for eternity—and realize that it can never be lost, contentment results. In the eyes of God, we are declared godly the moment we trust Christ. In this world, transformation begins through His Spirit, giving us the experience of the godliness we already have in Him. "He is no fool who gives what he cannot keep to gain what he cannot lose," said Jim Elliott, before he was martyred in South America.
Click here to sign up for your free Winning Walk newsletter!
OUR THANK YOU TO YOU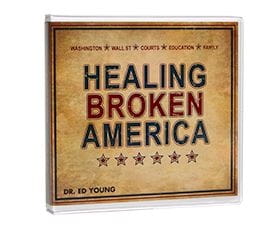 Be a Part of the Healing of Broken America!
A quick glance at the nightly news, the newspaper, or the Internet reveals that we are experiencing one crisis after another. Washington is broken, Wall Street is broken, the
courts are broken, the schools are broken. Even the
family
is broken!
In his 6-message CD series,
Healing Broken America
, Dr. Ed Young addresses head-on the major areas in our country that must change if we are to see our nation restored. He clearly defines the five areas where America is broken, and then offers common sense, biblically-based remedies for healing those wounded areas. Learn how to be part of the solution for America.