Pursue Peace
In 1 Peter 3:10-11, Peter provides an important command in our relationships with other people,
For "He who would love life and see good days, let him refrain his tongue from evil, and his lips from speaking deceit. Let him turn away from evil and do good; let him seek peace and pursue it."
I want to focus your attention on the last part of verse 11, "Seek peace and pursue it." This means we are to pursue peace with people.
This command is reinforced by the writer of Hebrews in Hebrews 12:14,
Pursue peace with all people, and holiness, without which no one will see the Lord.
I want you to take note of the first part of that verse, Pursue peace with…. How many people are we to pursue peace with? All people. Does that include your neighbor? How about your mom? How about your dad? How about your kids? Your boss? Your relatives? How about that individual who seems to have a gift for getting on your nerves? What about those who are rude and obnoxious?
We are told that we are to pursue peace with all people. That is not a suggestion. That is a command. And that command is clarified further in Romans 14:19, which says,
Therefore let us pursue the things which make for peace and the things by which one may edify another.
Things that edify (or build up) create peace. Things that tear down shatter peace. Keep that in mind next time you are having a heated discussion with your husband or wife. Ask yourself, "Are the things that I am sharing at this moment building up my partner? Or, are they tearing them down?"
Pursue peace with all people by choosing words and deeds that will build them up.
Visit the Answers with Bayless Conley website for more ways to Connect with God
and
click here to view today's Answers with Bayless Conley broadcast at LightSource.com.
FEATURED RESOURCE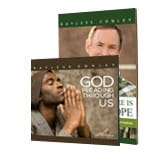 God Pleading Through Us & There is Always Hope
God can bring hope to even the most devastating and hopeless of circumstances. He can turn impossible situations around, and save lost and weary souls. He has a way of reaching us just where we are.
In his booklet, There Is Always Hope, and CD/DVD message, God Pleading Through Us, Bayless Conley shares his personal testimony . . . how God transformed the life of a truly lost and hopeless soul.
God can do the same for you and your loved ones! That is why we would like to send you a copy of these powerful resources as our gift to thank you for your support of Answers with Bayless Conley and helping to bless others with the Gospel. So thank you for giving.
We pray that you and those you care about would know the amazing hope that God can bring today!