Agreeing With God's Word
When the twelve spies returned from searching the promised land, they said, "We are not able to go up against the people, for they are stronger than we" (Numbers 13:31).
That was the report they brought back—at least ten of them that is. The other two, Joshua and Caleb, had this to say,
"Only do not rebel against the LORD, nor fear the people of the land, for they are our bread; their protection has departed from them, and the LORD is with us. Do not fear them" (Numbers 14:9).
They all saw the same things in the land of Canaan, but only Joshua and Caleb chose to agree with God. The Lord had previously told them that He would give them victory and that they would be able to drive out the inhabitants of the land.
The ten spies (along with all Israel) died without ever possessing what God had promised. Only two men from that generation entered into Canaan and possessed the land. I think you can guess who they were—Joshua and Caleb. The only two who agreed with the declarations of God.
Check out what you have been saying. Do your words agree with God or not?
Visit the Answers with Bayless Conley website for more ways to Connect with God
and
click here to view today's Answers with Bayless Conley broadcast at LightSource.com.
FEATURED RESOURCE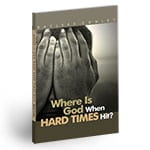 Where is God When Hard Times Hit?
When hard times hit, it can seem like God is nowhere to be found. In Where Is God When Hard Times Hit? Bayless Conley examines the life of Elijah, a foundational figure of faith. In the midst of Elijah's distress, God revealed Himself in a most amazing way, providing valuable lessons for anyone in the midst of trouble or hard times. Be sure to request Where Is God When Hard Times Hit? when you give your gift to reach more people with the transformational message of the Gospel.