The Power of Zero
Perhaps you are in a very stressful time in your life right now, and you feel you can't go on.  I want you to know that you are not alone.  In fact, some of the greatest men and women of God have gone through what you are going through right now.
One of those individuals is the prophet Elijah whom I mentioned in yesterday's devotional.  After a great spiritual victory over the priests of Baal, we find him on the run, wondering whether life is even worth it.
We catch the story in 1 Kings 19:4-6,
But he himself went a day's journey into the wilderness, and came and sat down under a broom tree.  And he prayed that he might die, and said, "It is enough!  Now, LORD, take my life, for I am no better than my fathers!"  Then as he lay and slept under a broom tree, suddenly an angel touched him, and said to him, "Arise and eat."  Then he looked, and there by his head was a cake baked on coals, and a jar of water.  So he ate and drank, and lay down again.
Elijah had reached that "zero" place in his life.  There was nothing left.  He had given it all and the tank was empty.
Maybe that describes you right now, you are on the verge of quitting.  You figure, "I've had enough.  I'm done.  Enough pressures, enough hassles, I cannot ride this thing out anymore.  My strength is gone!" 
Well, did you notice that when Elijah was at the end of his strength, that was when God intervened?  Being out of strength, being at zero, is not a bad place to be. If you will look to God, He is prepared to meet you in your moment of need.
---
Visit the Answers with Bayless Conley website for more ways to connect with God. 
Click here to watch this week's Answers with Bayless Conley broadcast at LightSource.com or listen on OnePlace.com.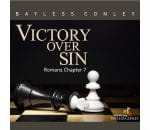 Defeat sin in your life!
It often feels like sin has the upper hand in our lives. But there is a way you can defeat sin – through Jesus Christ! Give a gift to help share the Gospel through our global broadcast ministry, and we'll say thanks with a powerful resource to help you overcome sin once and for all.