Judging Others: A Closer Look at Matthew 7:1
Eric J. Bargerhuff
Monday, June 18, 2012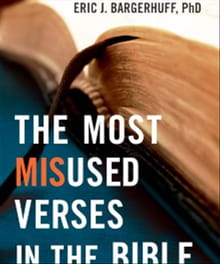 This then, is why the apostles called us to help one another in our struggle with sin. For example, James says:
My brothers, if one of you should wander from the truth and someone should bring him back, remember this: Whoever turns a sinner from the error of his way will save him from death and cover over a multitude of sins. (James 5:19-20 niv 1984)
Paul said something similar in the book of Galatians:
Brothers, if someone is caught in a sin, you who are spiritual should restore him gently. But watch yourself, or you also may be tempted. Carry each other's burdens, and in this way you will fulfill the law of Christ. Galatians 6:1-2 niv 1984)
Notice that both James and Paul assume two things. First, there will be times when fellow believers will wander off the straight and narrow path. Second, they assume that other Christians, out of love, will seek to come alongside that brother or sister in an effort to bring him or her back from the error of their ways and save them from the destructive power of sin (see Jesus' method for doing this in Matthew Matthew 18:15-17).
Since we have been commissioned to proclaim a message of repentance and faith to those outside the church who need to hear the good news, certainly we need to proclaim the same message of repentance and faith to those inside the church.
Therefore, Jesus does not forbid all moral judgment or accountability. Rather, he forbids harsh, prideful, and hypocritical judgment that condemns others outright without first evaluating one's own spiritual condition and commitment to forsake sin.
It is my contention that the popular misuse of "do not judge" reveals just how far the discipline of sound biblical study has slipped in recent years. More than that, it sheds light on the state of our culture, a culture that seeks to avoid accountability and responsibility for personal actions.
This current trend and mentality runs counter to the teachings of Scripture. For the collective teaching of the Bible insists that those who are created in the image of God are morally responsible to God and to one another. So to use "do not judge" as a means of dismissing oneself from moral responsibility would be to interpret it in a way that pits it against the rest of Scripture.
We should remember that2 Timothy 3:16-17 or inspired by the Holy Spirit, and as such it is without error and never contradicts itself (because God never contradicts himself). Therefore, it is always wise to interpret a given passage of Scripture by comparing it with the principles and teachings found elsewhere in Scripture. This provides a healthy check and balance and helps us avoid misinterpretations, logical inconsistencies, and inappropriate applications.
Eric J. Bargerhuff, Ph.D., author of The Most Misused Verses in the Bible, is a Bible scholar who has served in pastoral ministry in churches in Ohio, Illinois, and Florida. He received his doctorate in biblical and systematic theology from Trinity Evangelical Divinity School. Eric and his family live in Palm Harbor, Fla.
Excerpted from:
The Most Misused Verses in the Bible by Eric Bargerhuff, PhD
Copyright © 2012; ISBN 9780764209369
Published by Bethany House Publishers
Used by permission. Unauthorized duplication prohibited.
Publication Date: June 18, 2012
Have something to say about this article? Leave your comment via Facebook below!
advertise with us
Example: "Gen 1:1" "John 3" "Moses" "trust"
Advanced Search
Listen to Your Favorite Pastors