10 Ways to Determine God's Calling in Your Life
John Piper, Desiring God
Monday, April 25, 2005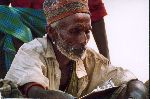 God sends and seeks the burden for lost people. Jesus carried such a burden:  "O Jerusalem, Jerusalem! . . . How often would I have gathered your children together as a hen gathers her brood under her wings" (Luke 13:33-34). This burden was essential to his calling. What is your burden?
6. Know your circumstances.
Parents, health, houses, lands, children, age, etc. All of them matter in our calling, but none of them is decisive. They can all be overridden. "Truly, I say to you, there is no one who has left house or brothers or sisters or mother or father or children or lands, for my sake and for the gospel, who will not receive a hundredfold now in this time, houses and brothers and sisters and mothers and children and lands, with persecutions, and in the age to come eternal life" (Mark 10:29-30).
7. Pray for God to throw you where you can be best used for his glory.
I say "throw" because in Matthew 9:38 that is the literal meaning: "Pray earnestly to the Lord of the harvest to throw out laborers into his harvest." The point is pray! Ask God to use you to the fullest for his glory. "If any of you lacks wisdom, let him ask God, who gives generously to all without reproach, and it will be given him" (James 1:5).
8. Do not neglect passionate, Christ-exalting, corporate worship.
The most important missionary calling that ever happened took place in corporate worship: "While they were worshiping the Lord and fasting, the Holy Spirit said, 'Set apart for me Barnabas and Saul for the work to which I have called them'" (Acts 13:2).
9. Listen humbly to the spiritual people in your life.
They not only confirm your gifts. They are the instruments of God to awaken in you possibilities and joys of missionary service that you never dreamed (2 Timothy 1:5-7).
10. Cultivate absolute surrender of all you are and have to Christ.
This is the person that God leads to the greatest fruitfulness of life. Woe to the person who tries to be a half-Christian and never says from the heart: "I renounce everything for you, Lord Jesus. I am willing to go anywhere and do anything at any cost, if you will go with me be my everlasting joy."
This is why Jesus said, "If anyone comes to me and does not hate his own father and mother and wife and children and brothers and sisters, yes, and even his own life, he cannot be my disciple. Whoever does not bear his own cross and come after me cannot be my disciple. . . . Therefore, any one of you who does not renounce all that he has cannot be my disciple" (Luke 14:26-27, 33).


Recently on Spiritual Life
Have something to say about this article? Leave your comment via Facebook below!
advertise with us
Example: "Gen 1:1" "John 3" "Moses" "trust"
Advanced Search
Listen to Your Favorite Pastors