Love Wins: A Review of Rob Bell's New Book
Tim Challies, Author
Tuesday, March 15, 2011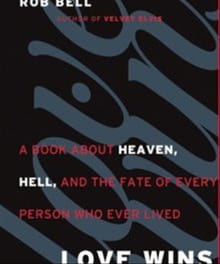 Questions matter. They can help you to grow deeper in your knowledge of the truth and your love for God—especially when you're dealing with the harder doctrines of the Christian faith. But questions can also be used to obscure the truth. They can be used to lead away just as easily as they can be used to lead toward. Ask Eve.
Enter Rob Bell, a man who has spent much of the last seven years asking questions in his sometimes thought-provoking and often frustrating fashion. And when he's done asking, no matter what answers he puts forward, it seems we're only left with more questions. This trend continues in his new book, Love Wins: A Book About Heaven, Hell, and the Fate of Every Person Who Ever Lived, where Bell poses what might be his most controversial question yet:
Does a loving God really send people to hell for all eternity?
The questions you probably want answers to as you read this review are these: Is it true that Rob Bell teaches that hell doesn't exist? Is it true that Rob Bell believes no one goes to hell? You'll just need to keep reading because, frankly, the answers aren't that easy to come by.
How he asks the question is just as important as the question itself. "Has God created billions of people over thousands of years only to select a few to go to heaven and everyone else to suffer forever in hell? Is this acceptable to God? How is this 'good news'?" They say that the person who frames the debate is going to win the debate. That is especially true when the debate is framed in this way, through these particular questions. You're damned if you do and damned if you don't. No offense, and no pun intended.
The Toxic Subversion Of Jesus' Message
Bell begins the book with surprising forthrightness: Jesus' story has been hijacked by a number of different stories that Jesus has no interest in telling. "The plot has been lost, and it's time to reclaim it." (Preface, vi)
A staggering number of people have been taught that a select few Christians will spend forever in a peaceful, joyous place called heaven, while the rest of humanity spends forever in torment and punishment in hell with no chance for anything better…. This is misguided and toxic and ultimately subverts the contagious spread of Jesus' message of love, peace, forgiveness, and joy that our world desperately needs to hear. (ibid)
You may want to read that again.
It really says that. And it really means what you think it means. Though it takes time for that to become clear.
Heaven Is A Place On Earth—and We Are Making It
Bell frames much of the book around time and place, around what the Bible means when it speaks of the when and where of heaven and hell. He points to Revelation 21, citing that the heavenly city, the New Jerusalem, is coming down to the new earth. He also affirms that heaven is a real place where God's will alone is done and that at present, heaven and earth are not yet one (pp. 42-43). These are points that few Christians could seriously question.
His argument progresses to this: Because heaven will eventually come to earth, if we're to take heaven seriously, we must take the suffering that exists in the world seriously now. Therefore, we are called to participate "now in the life of the age to come. That's what happens when the future is dragged into the present" (p. 45). In light of this, humanity's role within creation is redefined so that we are not so much stewards as we are God's partners, "participating in the ongoing creation and joy of the world" (p. 180), and engaging in creating a new social order with Jesus (p. 77). This language of partnering and participating is frequently applied by Bell to causes of social justice.
Recently on Spiritual Life
Have something to say about this article? Leave your comment via Facebook below!
advertise with us
Example: "Gen 1:1" "John 3" "Moses" "trust"
Advanced Search
Listen to Your Favorite Pastors