People of the Book?
T.M. Moore, BreakPoint
Wednesday, May 23, 2007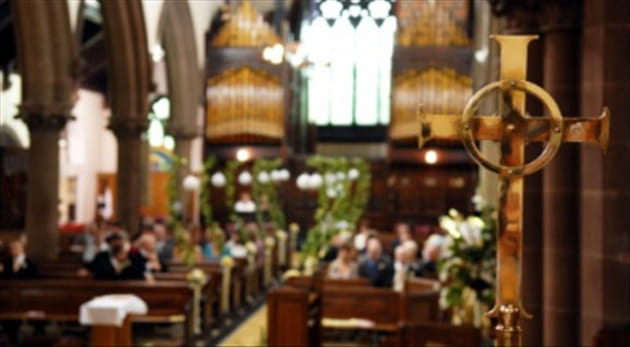 1
2
3
4
5
6
7
8
9
10
Not at all
All the time

Whenever I do read the Bible, I'm looking for ways that I might grow, or that I might help others grow in the Lord, or come to know Him.
1
2
3
4
5
6
7
8
9
10
Not at all
All the time

I can hardly wait to get time in the Bible each day; I eagerly look forward to every moment of reading, studying, meditating on—drinking in!—the Word of God.
1
2
3
4
5
6
7
8
9
10
Not at all
All the time

I read through all of the Scripture regularly, and I'm always looking for new ways that the Bible can speak to my life, my society, my culture, and the world in which I live.
1
2
3
4
5
6
7
8
9
10
Not at all
All the time

The Bible is changing my life; I can see it and my friends comment on it. And I'm eager to see it change the lives of others as well.
1
2
3
4
5
6
7
8
9
10
Not at all
All the time
Article Page Break Here
A Sacred Trust
So, how'd you do? Can you describe yourself as a person of the Book? Or do you just have a kind of loose adherence to Scripture as somehow a part of your life, although not in any consistent or transforming way? What have you learned about your own commitment to the Bible, and what does this exercise suggest about any changes you might need to make?
As the followers of Christ we have been given His Word as a sacred trust (Psalm 147:19,20). God has given us the Bible, and He has sent His Spirit to lead us into all truth and teach us the things we need to know, as we compare one section of Scripture with another and listen for His "voice" to instruct, convict, and transform us (1 Corinthians 2:12-13). And He has appointed to us the ministry of this Word for the purpose of making all the nations disciples (Matthew 28:18-20). No other people in the world has been entrusted with this glorious treasure! If we fail to receive the Word like the creation does, and to minister it like God Himself, how will the blessings of the Word ever reach the billions and billions who are still living in the darkness of ignorance and unbelief?
If we would call ourselves people of the Book, then let us set about the business of making that claim real. What is the Lord saying to you today about your stewardship of the sacred trust of His Word?
For Reflection
Do you need to set your goals for Scripture reading and study a little higher? Is there someone you can connect with for mutual accountability and encouragement as you press on to become a person of the Book?
T. M. Moore is dean of the Centurions Program of the Wilberforce Forum and principal of The Fellowship of Ailbe, a spiritual fellowship in the Celtic Christian tradition. He is the author or editor of seventeen books, and has contributed chapters to four others. His essays, reviews, articles, papers, and poetry have appeared in dozens of national and international journals, and on a wide range of websites. His most recent books are The Ailbe Psalter and The Ground for Christian Ethics, (Waxed Tablet). He and his wife and editor, Susie, make their home in Concord, Tenn.
Recently on Spiritual Life
Have something to say about this article? Leave your comment via Facebook below!
advertise with us
Example: "Gen 1:1" "John 3" "Moses" "trust"
Advanced Search
Listen to Your Favorite Pastors