Welcome to Audacious Faith
Steven Furtick, Author
Wednesday, August 04, 2010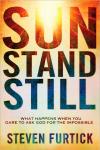 EDITOR'S NOTE: The following is an excerpt from
Sun Stand Still: What Happens When You Dare to Ask God for the Impossible?
by Steven Furtick (Multnomah).
Chapter One: Welcome to Audacious Faith
Pastor Michael proudly showed me the place where his church was putting in new toilets. I was still adjusting to the smell, trying to pass it off like it didn't faze me. Like I walked down urine soaked dirt roads every day.
"These toilets would not be very nice by the standards of your country, "Michael explained. "I know that. But here in the slums of Kampala, Uganda, so many children are sick because the food they eat is cooked right next to the hole in the ground where they go to the bathroom. So our church is building the nicest toilets we can here…for the children."
I had a hard time concentrating as he went on laying out his plans. Because as soon as he said the word "children," my gaze drifted to a cluster of kids playing some variation of Capture the Flag on the trash heap behind the church. The church was really just a shed. And instead of a flag, the kids appeared to be competing for an orange peel. It was weird how content these kids seemed playing with just a peel—more content, it appeared to me, than a lot of kids back home seem playing with a Wii. And this garbage heap here on the edge of Pastor Michael's church property looked like the neighborhood hot spot. How, I wondered, would parents of elementary-school kids at my church react if they were asked to drop their children off at a playground like this one?
Pastor Michael's church members obviously weren't worried about it. They had been under the shed worshiping loudly for about an hour, and I realized they thought nothing of the fact that there was a small goat eating breakfast on top of the trash heap right next to where their kids were tossing around the orange peel. A scrawny, hungry, scary-looking goat.
Michael must have noticed that I was taking in the scene. "This is a Muslim hill," he continued, yanking my attention back to our conversation. "I amused to facing a lot of opposition. A lot of people do not want me here. Especially the witch doctor who tried to destroy our church by threatening our members. But when we prayed for God to make fire fall down from heaven, and his house burned down that same week, he left us alone."
I shot him a questioning look.
"Do not worry," he said, a twinkle in his eye. "He was not home at the time."
For the rest of the tour, I could barely keep up with Pastor Michael. He was moving fast and talking even faster. I felt clumsy and white trying to dodge the mud puddles while he led me down alleys through the slum. This was his village, he said. With every step, he detailed how he wanted to transform it for Christ. A school on this lot. A doctor's office on that lot.
"For the children," he kept saying…
* * *
Tonia could act like a total diva if she wanted to. She's pretty, well paid, locally famous, and uber-talented. So people in our community are noticeably shocked when they show up to help serve breakfast at a homeless shelter and see Tonia in the kitchen making scrambled eggs.
It happened the other day. She was volunteering with an outreach group from our church when somebody asked me, "Isn't that the lady from the news?"
"Yeah, that's Tonia. She's awesome."
"What's she doing here?"
"She's serving."
"Huh. Wow. That's impressive."
Actually, I would describe the way Tonia does her life as a few notches above impressive. I'd characterize it as audacious.
Strictly according to her job title, she is a news anchor—a multiple-award-winning one at that. But news anchor doesn't begin to capture the essence of who Tonia is. She's a community service superhero who has designed her life around leveraging her on-camera talent to make an off-camera impact. She's better at it than anyone else I've ever met. Charlotte is filled with teen moms, homeless families, and shut-ins who have been touched by Tonia's passion to serve. And she's relentless about recruiting others to serve with her.
Recently on Spiritual Life
Have something to say about this article? Leave your comment via Facebook below!
advertise with us
Example: "Gen 1:1" "John 3" "Moses" "trust"
Advanced Search
Listen to Your Favorite Pastors