Work-at-Home Mom's Summer Survival Guide
Theresa Ceniccola, The Christian Mompreneur
Thursday, June 20, 2013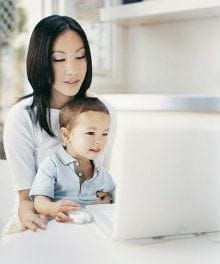 I admit it. I enjoyed the last couple of weeks in my quiet office. While the kids were in school, I roamed the house with a cup of tea and a laptop in search of a change of scenery for creative inspiration. I chatted with clients while folding laundry and enjoyed hours of uninterrupted silence conducive to writing and thinking. Once school let out for the summer, I was banished to my office with the French doors closed and the mute button became my best friend again.
But I wouldn't trade it for the world. I love the fact that my children will be home all summer and I'm excited for the shift it will bring to my routine and our family life. Having worked from home for 19 years, I've learned a little bit about how to stay productive without becoming a work-monger. And because my children have never known anything except a work-at-home mother, they've grown up sharing their home with a business. Together, we've come up with a fairly decent system for spending the summer in work and play. Here are our favorite tips, and they should work for toddlers to teens and will even be helpful if you've got a babysitter or nanny on board:
Seven Home-Based Business Summer Survival Tips
1. Create a Schedule. Yeah, I know…boring! But having a loose schedule will give everyone the structure they need to accomplish what has to be done, and enjoy the long days of nothingness. At the very least, establish regular working hours – even if they fluctuate from week to week. And do your best to treat those office hours as sacred time without distraction or interruption. This will help you prevent trying to work at the waterpark (not very productive as I have learned from experience).
Bonus tip: I started asking my kids to create their own summer routines a few years ago. I give them parameters like "one hour of reading time," or "30 minutes of exercise," and "no more than one hour of screen time." They have fun and learn a valuable skill by outlining their own daily schedules – and they are far more likely to stick to the routine when they create it themselves.
2. Plan. Discuss. Repeat. Because summer schedules seem to change each week, it's even more important to hold that weekly planning meeting with your family. Review the schedule for the week and set realistic expectations for office hours, meals, transportation, play dates, etc. If you have a childcare provider, outline the week for her as well. It only takes 20 minutes and gives everyone an opportunity to participate and be heard. Plus, it gives you an idea of what your top priorities will be each week so you can tackle them first!
3. Protect Your Boundaries. One of the greatest gifts you can give yourself and your family is the gift of clearly defined boundaries. Do your kids know when you are "at work" and "at home?" Do they know the rules of when they can or cannot enter your office? Do they know how to behave when you are on the phone? (No matter how old they are!) Do they know WHO to go to when there is a babysitter in the house and mom is in the office? Do YOU know the rules about answering a work related call while playing CandyLand or teaching your teenager to drive? Do YOU respect your children by focusing on them 100% during the time you are not working? Give this area some serious thought and work with your children to create and honor boundaries that work for everyone.
4. Write a Business Bucket List. You may already have a bucket list of fun things your children want to do this summer. But do you have a bucket list of your business goals for the summer? What are the things that you put off until summer to explore, learn or implement in your business? Are there any road trips or excursions that might be good for your business and fun for your family? Do you have a weeklong beach or mountain retreat planned that would be perfect for writing your book or several blog posts? Are there some things your children can actually help you accomplish this summer? What about your babysitter – can she sort papers or stuff envelopes or do research while the kids are napping? Make a list of business related projects and goals that are perfect for summer.
Have something to say about this article? Leave your comment via Facebook below!
advertise with us
Example: "Gen 1:1" "John 3" "Moses" "trust"
Advanced Search
Listen to Your Favorite Pastors