Grandchildren: The Crown of the Aged
Patricia Hunter, TOS Magazine Contributor
Friday, May 17, 2013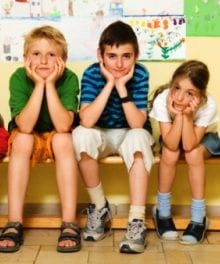 "Tell me again," my mom asked. "Why are you homeschooling your children?"
It was a question my parents asked often during our first few years of homeschooling. They weren't openly critical of our decision to homeschool, but they didn't understand our reasoning and convictions either.
My parents were educated in public schools, and after they had children of their own, they were satisfied to enroll us in the local public schools as well. Though our parents' choices for our education weren't a significant factor in our decision to homeschool our children, they initially interpreted it as criticism of the choices they had made as parents.
After we shared with our parents some of the resources that had influenced our decision to home educate, they began to better understand our motivation. They could see that we were not criticizing their parenting but simply making the best choices we knew how for our family in today's culture and educational environment.
My parents were never antagonistic, but it still took time for them to become enthusiastic supporters. Had they been less supportive or not supportive at all, we still wanted to model honoring and respecting them in front of our children and probably would not have changed most of the ways we invited them into our homeschooling activities. Our children learned much more from watching how we loved, honored, and respected their grandparents than we could otherwise have taught them.
Grandparents who live close enough to be regularly involved in homeschooling do have an advantage over grandparents who live far away. The mother of one of my homeschooling friends is a retired public school teacher who was not always supportive of homeschooling, but once a week she follows my friend's lesson plans and homeschools her granddaughter. For my friend, her daughter, and her mother, it is a gift. Her mother has cancer, and chemotherapy treatments often leave her feeling sick and exhausted, but she cherishes the day each week that she homeschools her granddaughter and the opportunity it provides to nurture that relationship and create lasting and meaningful memories.
My parents lived hundreds of miles away, but even if they had lived as close as Karen's mom did, I don't think they would have wanted to be that involved in their grandchildren's homeschooling. Like all homeschooling families, we had the freedom to involve our children's grandparents in the ways that worked best for our family's unique circumstances. What was important was staying connected—getting the grandparents involved in appropriate and meaningful ways that would strengthen family relationships, encourage support from the grandparents, and demonstrate to our children the importance of appreciating and honoring the wisdom of their elders.
As our homeschooling decision gained favor in the eyes of my parents, it was important for us to remember that not all of their grandchildren were homeschooled. We could express our convictions about homeschooling and even encourage other family members to consider home education, but we needed to be careful to avoid putting my parents in the middle. They needed the freedom to love and nurture relationships with all their grandchildren and be involved in their more traditional school activities without our condemnation.
We began homeschooling in the mid-1980s—the "dark ages" before the Internet, blogs, Facebook, and digital cameras. Writing snail-mail letters to grandparents was a frequent language and penmanship assignment. With my mother's help, we planned field trips close to my parent's hometown. We often invited them to join us and extended our visit by staying overnight and including them in our studies the following day.
Recently on Encouragement
Have something to say about this article? Leave your comment via Facebook below!
advertise with us
Example: "Gen 1:1" "John 3" "Moses" "trust"
Advanced Search
Listen to Your Favorite Pastors