Grandchildren: The Crown of the Aged
Patricia Hunter, TOS Magazine Contributor
Friday, May 17, 2013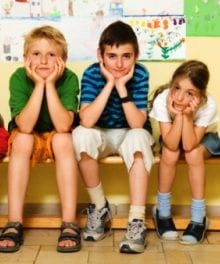 When my parents were ill and could use our help, we packed up our "school" and stayed with them as long as we were helpful and needed—a benefit of homeschooling that my parents came to appreciate the most. After my father's death, we moved my bedridden mother into our home so that we could care for her as a family. Our children not only kept up with their academic studies, but they also learned by example the joy of making sacrifices to serve others—especially their grandparents.
With today's technology, staying connected with extended family and keeping grandparents involved in their grandchildren's home education couldn't be easier—whether they live next door or on the other side of the world. The opportunities are endless.
A cell phone photo of our children doing a science experiment or a video of them reading their first words can, within seconds, be shared with their grandparents. In the children's lesson plans each week, we can assign the writing of emails or snail-mail letters to their grandparents, including artwork, a summary of their studies, a Scripture memory verse, or photos.
A private family blog (blocked from public access) can be a delightful and easy way for the children to share letters, stories, essays, photos, and videos with their grandparents. You could also encourage the grandparents to post their own entries with photos of their activities for their grandchildren to see!
If your parents are or were teachers, respect their experience. Though homeschoolers use different skill sets than teachers in the classroom, tap into your parents' "teacher knowledge" and wisdom. Include some of their suggestions in your planning, involve them in co-op experiences with other homeschoolers, and be sure to thank them for their help. It may improve support and bridge gaps between you and less supportive parents.
Ask the grandparents to teach a particular skill, or ask them what skills or knowledge they would like to pass on to their grandchildren. Create the opportunity for it to happen. Even grandparents who live far away can make videos to teach their grandchildren a lesson or skill.
Have your children interview their grandparents about a variety of topics. As an example, our children asked their grandparents to describe what they experienced on the day Pearl Harbor was attacked.
If grandparents live close by, ask them to participate in family or one-on-one read-alouds. If they live a distance away, encourage them to make audio recordings of themselves reading to the grandchildren and mail the CD or cassette to your family. They could even read to the children on Skype. If you are unsure or uncomfortable with your parents' book choices, suggest a title or mail them a copy of the book you want them to read and record.
Direct the hearts of your children toward their grandparents by speaking kindly of and to them. Encourage your children to pray for their grandparents, and pray with your children for them as well.
Ask your parents to pray for their grandchildren's homeschooling—with specific requests, and be gracious in receiving the advice they may offer as a result. In our homeschool we, along with our parents, cherished intergenerational relationships and understood my parents' God-given responsibilities to future generations (Psalms 71:17-18).
Proverbs 17:6 tells us that grandchildren are a crown. Our parents' desire to be actively engaged in their grandchildren's lives is God-honoring, and it's up to us to graciously welcome and not hinder their efforts to wear and delight in their crowns.
Patricia Hunter is a small town girl who thirty-five years ago married a handsome sailor turned citrus farmer, and together they raised and homeschooled their now adult children through high school on south central Florida's rural sandy ridge. She is a freelance writer and photographer and "Mimi" to eight grandchildren. "Cultivating an eye for life's mercies" through photography, Patricia blogs at Pollywog Creek: pollywogcreek.blogspot.com.
Copyright, 2012. Used with permission. All rights reserved by author. Originally appeared in The Old Schoolhouse® Magazine, the family education magazine, April, 2012. Read the magazine free at www.TOSMagazine.com or read it on the go and download the free apps at www.TOSApps.com to read the magazine on your mobile devices.
Publication date: May 17, 2013
Recently on Encouragement
Have something to say about this article? Leave your comment via Facebook below!
advertise with us
Example: "Gen 1:1" "John 3" "Moses" "trust"
Advanced Search
Listen to Your Favorite Pastors