Prayer, Praise, and Pursuit
Sheila Campbell, Texas Home School Coalition
Monday, December 24, 2012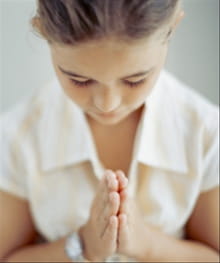 The winter night was cold as I slipped out of bed and tiptoed into the living room. Warm coals from the evening's fire still glowed in the fireplace, and I stuck a few logs in the grate and stirred the coals until a soft glow filled the room. As I warmed myself by the fire, I found myself wondering why I ever thought I could homeschool in the first place—much less do it alone.
School seemed to be dragging by—each day a struggle to stay on task, and as the stillness of the winter night settled over the house, my mind was still running through the day reviewing unfinished lessons and irritable tempers. My mid-year assessment looked bleak as I realized we were less than halfway through lesson plans in every subject. Everyone seemed to have "cabin fever," and short days and short tempers seemed to go together.
It was mid-January, and summer—even the golden days of autumn—had long since faded like a distant memory. The view from my window revealed a dreary winter landscape and it was hard to envision the sights, sounds, and smells of a long forgotten spring. As spring and summer had passed into fall and the beauty and color of autumn had faded into winter, the excitement of new books purchased in the spring and the joyful eagerness of the new school year that had begun in late summer had also faded. Like a man in the midst of a long journey, both the beginning and the end of the road seemed to equally disappear into the horizon. I had forgotten why I started this journey and I could not connect with the vision that I once had—I felt stuck in the middle and was losing momentum.
As I sat there moping in discouragement, my eye caught sight of my Bible on an end table a short distance away; I picked it up and opened to the first chapter of Philippians. By the dim light of the fire I began reading Paul's letter of encouragement to the Philippians: "Being confident of this very thing, that he which hath begun a good work in you will perform it until the day of Jesus Christ" (Philippians 1:6); the words, which I had read so often, suddenly came alive. I turned on a lamp and continued reading. Paul's writings to the believers at Philippi reminded them that the one who had begun the work in their hearts was still working in and through them; he exhorted them to remain steadfast despite trials and sufferings and encouraged them to press on, to forget those things that were past and continue to pursue the goal of righteousness and perfection which is of God by faith. The prize was not for the swift, but for the faithful.
And then in chapter four, Paul gives an astounding command to believers who, just a couple of chapters back, were told, "For unto you it is given in the behalf of Christ, not only to believe on Him, but also to suffer for his sake" (Philippians 1:29). Paul tells them to rejoice! "Rejoice in the Lord always: and again I say Rejoice" (Philippians 4:4). REJOICE! That single word seemed to bring joy and overflow my heart like the filling of an empty cup. Paul then continues a few verses down to give them some practical instructions that will bring peace to their lives. One of his instructions contains two valuable truths in one sentence. He reminds them of the power of prayer and the power of praise: "Be careful for nothing; but in every thing by prayer and supplication with thanksgiving let your requests be made known unto God" (Philippians 4:6).
When at last I closed my Bible, I found that the fire was once more glowing coals and there was a slight chill to the room, but my heart had been warmed by a letter written by Paul to the Philippians thousands of years ago and preserved by the power of God to encourage the believers of today. It had strengthened my faith in the convictions that had prompted me to start homeschooling. I was reminded that as Christians we are all on a journey to "press toward the mark for the prize of the high calling of God in Christ Jesus" (Philippians 3:14). And as a homeschool parent I was taking my children on this journey with me. Paul's instructions to rejoice and to pray with a thankful heart, to believe with confidence that the Lord would finish the work, had calmed my restless spirit.
Recently on Encouragement
Have something to say about this article? Leave your comment via Facebook below!
advertise with us
Example: "Gen 1:1" "John 3" "Moses" "trust"
Advanced Search
Listen to Your Favorite Pastors