Choosing Between Spouse and Lover: What If It's Love?
Joe Beam, President, Marriage Helper
Friday, December 14, 2012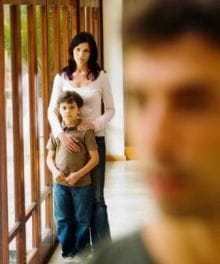 "With time, talking led to handholding. That eventually led to warm, clinging embraces. Next came kissing which finally progressed to full physical expression of your emotions.
"Guilt followed your first lingering kiss. It reached its peak when you became sexually intimate. Before you left each other after that first time, you wept and prayed together, asking God to forgive you and help you not sin again.
"Soon the prayers ceased.
"Now neither you nor Sheila feels a need to ask God to forgive. Instead, you thank Him for bringing you together."
The Present
He stared at me for several minutes before speaking.
"Yes, that's pretty much the way our love developed. So what does that have to do with anything?" John asked warily.
"I walked you through that very brief history for two reasons, John. First, it's significant that I told your story to you, not you to me. I probably missed something here or there, but I got the main parts right, didn't I? Why is that important? It means you aren't unique. What you have isn't magic or extraordinary. I've heard the story so many times in my work with marriages in trouble – sometimes from the guy's perspective, sometimes the gal's – that I know it well.
"Second, John, because I know how you got to where you are, you need to realize that I can tell you where you're headed. How? Same reason. I've heard the stories.
"Hundreds of them. Sure, I might miss something here or there because every situation is a little different, but I'll get most of it right."
He was not enthusiastic about hearing my predictions, but realized it would be irrational to refuse.
"John, if you divorce Melinda and marry Sheila, the odds are better than 8 out of 10 that you and Sheila will divorce. Even if you stay together, which is not likely, you will have difficulties in that marriage because of the way it started. I know that you believe I'm wrong. Even when I tell you I've seen the same thing repeatedly over the last twenty years, you think that you will be the exception. Everybody thinks that. Nobody is. Allow me to explain what you have before I predict where you will wind up.
"John, you love Sheila so intensely that you think no one else could possibly understand what you feel. It's so deep that you don't know how to find words to describe those feelings adequately. Because your emotions exist at a level beyond anything you've previously experienced, you believe them to be extraordinary –magical. You cherish those feelings so dearly that you want to do whatever it takes to maintain them.
"I understand that. And I don't blame you for not wanting to let them go. However, no matter what you do, what you feel now isn't going to last. We know from science and from our own experience with thousands of people that limerence lasts somewhere between three months to three years and then it begins to fade away.
"How long have you felt this way about Sheila, John?"
John angrily replied, "About nine months. But you're wrong, Joe. It won't go away. This is real. Very real. It's not some infatuation that flashes and dies. I'm not drugged. I'm in love."
I reassured him, "I have no doubt it's real, John. However, though you don't want to hear it, you are intoxicated. Your brain makes the chemicals driving these amazing emotions. I've felt it. I know what it's like. The reason it has to fade, John, is that the emotional state you're in now would destroy your life and livelihood if it lasted a lifetime. Admit it; you spend a lot of time thinking about Sheila. So much that some things in your life don't get the attention they need."
Recently on Divorce and Remarriage
Have something to say about this article? Leave your comment via Facebook below!
advertise with us
Example: "Gen 1:1" "John 3" "Moses" "trust"
Advanced Search
Listen to Your Favorite Pastors