Choosing Between Spouse and Lover: What If It's Love?
Joe Beam, President, Marriage Helper
Friday, December 14, 2012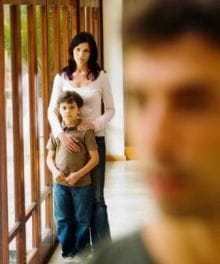 "I didn't list everything, John, but that's enough to get the picture. You are in limerence with Sheila, John, aren't you?"
He tried to look smug, but could not pull it off. Instead, he demonstrated a mixture of anger, frustration, and anxiety. "Okay, mostly you described what I have with Sheila, but not exactly. Besides, when a person is in love, he feels those things. You described true love, nothing more, and I already told you that I truly love Sheila."
The Future
"John, those things describe a particular type of love. Limerence isn't always a bad thing. When two single people fall into limerence, nobody worries about them. But one reason we don't worry, John, is because we know that their limerence is going to grow to a different kind of love. No one expects them to be in that euphoric romantic stage for the rest of their lives. If we did, we would worry, because we know that life cannot be lived that way for long. It is too exclusive, too selfish, and too unproductive for them as individuals, a couple, and for society as a whole. We expect them to develop a more mature and broader level of love that is not as intense but is much more fulfilling; a love based on giving as well as taking, a love that is much more secure and less driven by moods, a love that is stable rather than reactive.
"If you think that is what you will develop with Sheila and that will fulfill you as limerence subsides, you're wrong for several reasons.
"The first is that the best person with whom to have the stable, long-lived kind of love is Melinda, your wife, the mother of your children.
"The second is that when the limerence subsides you will have lost your wife, your children, many of your friends, your church, and probably your own view of yourself. You're trading all of that for the intense emotions that you feel today. How do you think you're going to feel when that intense emotion no longer exists as it does now? We know from our work with thousands of marriages in crisis that you have a great likelihood of resenting Sheila. The object of your love probably will become the object of your resentment. While you're in limerence, you won't see her flaws. When limerence fades and you comprehend the costs of all you sacrificed for her, it is extremely likely that your mind will exacerbate her flaws. You'll wonder how you were so blinded and you'll resent what your relationship with her cost you. We see it every day. Nearly every person we work with who leaves his or her spouse for someone they love with limerence, and then marries that person, winds up divorced eventually.
"The third is how your relationship with your children will change. Same with dear friends, and people you love that you went to church with, but let's concentrate on the kids. Sheila may love them, but she'll never be their mother, even if Melinda were to die prematurely. Most kids resent the person their Dad left their Mom for, or that Mom left Dad for. They may treat her kindly, callously, or indifferently, based on how angry they are with you and whether or not they want to keep emotional connection with you. It's terribly unfair to them, and ignoring reality, to expect them to love and cherish the person they'll view as the destroyer of their family. If you delude yourself into thinking that they'll get over it, or that they're old enough to understand, your delusion won't last long. Your kids will rupture that fantasy.
"Add to that the emotional logistics concerning who spends holidays and vacations where, what roles people play and who sits in what pew when your kids' weddings occur, and how people interact when someone passes on.
"Finally, consider God's view of all this. I bring that up because you mentioned your pastor and your past church involvement. The Bible you once believed says that God hates divorce (Malachi 2:10), and that adulterers will not inherit the kingdom of God (1 Corinthians 6:9-10). If you are honest with yourself, you know that you quit believing those because they contradict what you want to have with Sheila. However, as you abandon those beliefs for her, what changes inside of you? You see, part of your identity is your belief and value system. When you change that, you change you. That's the principle behind conversion. When a person becomes a Christian, she becomes a different person because she changed her beliefs and values. It works in reverse as well, John. As you change your beliefs and values, you become a different person. Right now, in the depth of limerence, you probably don't see it. If you do, you may not care. Believe me; you will see it in years to come if you pursue this course. If then you don't care, it will be because of who you have become. Think you want to be that person, John?
Recently on Divorce and Remarriage
Have something to say about this article? Leave your comment via Facebook below!
advertise with us
Example: "Gen 1:1" "John 3" "Moses" "trust"
Advanced Search
Listen to Your Favorite Pastors