Female Beauty Matters
Mary Kassian, GirlsGoneWise.com
Saturday, June 04, 2011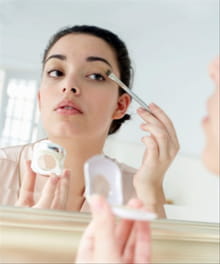 It's even a touchier subject for women, because as Evans points out, "many are so burdened by the impossible standards imposed by our culture that they feel as though their efforts will never be enough." Like Evans, I have never in my life met a woman who did not want to be beautiful for her husband.
When it comes to beauty, women react against the burden of expectation, the fear that they will fall short of the desired standard, the inevitability of decay, and the resentment that the script is different for men than women. A woman wants to be loved and accepted as she is. From a wife's perspective, a husband's attraction to/desire for beauty can magnify her feelings of personal inadequacy and insecurity, and she may fear that his love/acceptance depends on her ability to measure up.
Approaching the Discussion from a Different Angle
So who is right—Challies or Evans? Was Driscoll entirely off base in suggesting that it might negatively affect a pastor if his wife lets herself go? Or were his critics misguided in insisting that a woman's lack of attention to her appearance should in no way impact her husband's propensity to stray?
The stalemate in the discussion often boils down to the fact that women resent the fact that men are so attracted to beauty, while men resent the fact that women don't make the effort to properly attend to it. So how do we resolve the impasse? In my opinion, we can't hope to make sense of the question until we view woman's beauty and beautification through the lens of the biblical typology of gender, and the eternal, cosmic meaning of sexuality.
Beauty has a Cosmic Meaning
Psalm 45 is a song celebrating the marriage of a Hebrew king to a foreign princess. But it's also a messianic prophecy pointing to the relationship between Christ the King and His Church-Bride. The Psalmist notes that the king "desires her beauty", and that the princess, in turn, makes herself beautiful—"all-glorious"— for him.
Scripture uses this imagery to illustrate how we are to make ourselves beautiful for our King. The Lord wants us to clothe ourselves in fine, spotless garments of righteousness—in holy character and holy deeds. (Rev. 19:7—8) He wants us to be beautiful, and through Jesus, we are! The great story of the gospel is that God gives us the opportunity to clothe ourselves in the beauty of Christ. He provides the beauty - and we don't need to work or strive to measure up, nor do we need fear that we will fail to meet the standard.
So what does all this have to do with our discussion about female appearance? It has a great deal to do with it. We live—as C.S. Lewis coined it—in the "shadow lands." The earthly, physical realities of our lives are but shadows—copies—of true and heavenly realities (e.g. Heb. 8:5; 9:24-25). The physical and temporal exist to point us to the spiritual and eternal. And nowhere is this more the case than in the relationship between male and female.
Human sexuality is a parable —a testimony to the character of God and to His spectacular plan of redemption through Jesus. This spiritual truth is so magnificent that God chose to put it on display permanently. Everywhere. Men were created to reflect the strength, love and self-sacrifice of Christ. Women were created to reflect the grace and beauty of the Bride He redeemed.
I believe that men are "wired" to be attracted to beauty in women because our Heavenly Bridegroom desires the beauty of His Bride. And I believe that deep down, every woman wants to feel beautiful and desired. This is the way that God has created us as male and female—and the illustration points to something far bigger than ourselves.
Beauty is More Than a Passing Pleasure
Recently on Relationships
Have something to say about this article? Leave your comment via Facebook below!
advertise with us
Example: "Gen 1:1" "John 3" "Moses" "trust"
Advanced Search
Listen to Your Favorite Pastors