Older Singles Need Resources Too
Cliff Young & Laura MacCorkle, Crosswalk.com Contributing Writer & Senior Editor
Thursday, November 10, 2011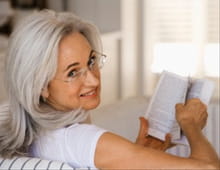 While I'm not yet in my 50s, I've still found myself struggling with finding appropriate resources for my life stage as well. Bottom line, we're in the minority out there (women who have been single for a long time). So if customers are not demanding certain products or resources, then it's safe to say that publishers, manufacturers and what have you will probably not be churning out a bunch of what you and I are looking for in these "different" stages of our lives.
But . . . let me encourage you on your quest, as I share with you from my own. A few years back, I read a book by Dale Hanson Bourke called Second Calling: Finding Passion & Purpose for the Rest of Your Life. It's marvelous!
Now it's not talking about singleness per se, but about how God is still able, willing and ready to move and shake in our lives even in our "later years" when we might think that our lives (or our purposes) are pretty much cemented (as in nothing could or would ever change) or even over.
She interviews various women (some married and with families and some who have had successful careers outside of the home) who share about God reigniting the passion in their hearts and seeing their spiritual growth get another kick-start. The biblical story of Naomi is also woven in to show how, as older women, we have an opportunity to help mold and shape the younger women in our lives (in our case, that might specifically mean a ministry to younger single women . . . perhaps one or two will come to your mind as you're reading this). And even though we are not married, I fully believe we can still do our Titus 2:3 part.
Another tip from my own back pocket is this: I have gained so much encouragement and edification from devotional books and Bible studies that are more geared toward married women. I know that sounds strange, but I really have. In fact, I'm reading through Elizabeth George's A Woman After God's Own Heart right now. And even though overall it's speaking more to wives and mothers, I'm still able to glean from the insights therein.
Just this past week, I was studying in a chapter about "a heart that loves" and what that looks like specifically as it relates to a husband. Even though I am not married, I was able to internalize what I read and consider how I "love" or show respect to the men who are in my life (leadership at church, my superiors at work, my brother-in-law, my male friends, etc.). Most of the same principles from a husband and wife relationship can apply, and I found myself convicted in my role as a woman in showing love (appropriately) to the male figures in my life.
I'm sorry there's no perfect "top ten" books list for you in my answer, but maybe I've helped you think outside the box a little bit for your search. The Lord has given me wisdom and food for thought for my single life by way of some pretty unexpected resources (and people!). Perhaps he will do the same for you, too.
You will seek me and find me when you seek me with all your heart (Jeremiah 29:13).

Recently on He Said-She Said
Have something to say about this article? Leave your comment via Facebook below!
advertise with us
Example: "Gen 1:1" "John 3" "Moses" "trust"
Advanced Search
Listen to Your Favorite Pastors