A Tricky Holiday: Should Christians Ignore or Embrace Halloween?
Sarah Hamaker, Crosswalk.com Contributing Writer
Wednesday, October 12, 2011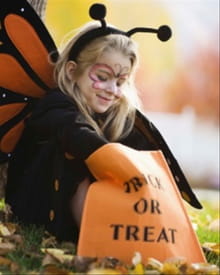 Ghosts, goblins and witches, oh, my! It's that time of the year when the world—or at least the United States—seems to embrace the dark side of Halloween revelry. Nearly every retailer has some sort of Halloween display, many of which features skeletons, ghouls and other scary stuff—a testament to Americans' love of all things spooky. This year, seven in 10 Americans will celebrate Halloween, spending some $6.9 billion on the holiday, according to the National Retail Federation. That's the highest amount in a decade.
For Christians, Halloween is fraught with potential pitfalls and boogeymen, both real and imagined. Some feel strongly that Christians and Halloween should not mix at all, while others believe Christians can participate in the holiday with a clear conscience.
"Some Christians believe Halloween is firmly rooted in 'the worthless deeds of evil and darkness' as described in Ephesians 5:11," says Mary Fairchild, who hosts the Christianity site at About.com. "The Bible says to 'take no part' in these things."
But other Christians think Halloween can be a way to celebrate family, neighborliness and, yes, Christ. "Some believers look around and see nothing in the Americanized version of Halloween that reflects their values," says Kim Weir, author of Redeeming Halloween. "I was one of those until I sat down and started looking into the holiday's origins and realized that Halloween has an incredible faith heritage."
Halloween's Christian Roots
Today's over-emphasis on the occult and death hide the fact that Halloween has a rich history in the church. While the holiday began as a pagan celebration to drive out evil spirits, the early church actually started what we call Halloween.
The name refers to All Hallows Eve, which is the evening before the All Saints Day of remembering early Christian martyrs. During the 8th century, Pope Gregory III moved All Saints Day from the spring to November 1 to coincide with the pagan festival of Samhain in an effort to sanitize the revelry, which often degenerated into drunkenness and mischievousness.
We should remember that "All Hallows Eve, the feast commemorating the martyrdom of the saints, had already been celebrated by Christians for many centuries prior to this time," says Fairchild. "A later pope, Pope Gregory IV broadened the feast to include the entire church. Inevitably, some of the pagan practices associated with the season persisted and have been mixed into modern celebrations of Halloween."
Halloween came to America from immigrants of the British Isles during the latter part of the 19th century. While originally, the immigrants might have believed in the superstitions associated with the holiday, American youth found the playful qualities of Halloween very attractive.
"Hollywood has added to the 'fun' with a wide assortment of fictional characters—demons, monsters, vampire, werewolves, mummies and psychopaths," says Travis Allen, director of Internet ministry at Grace to You and author of "Christianity and Halloween" posted on www.gty.org. "That certainly isn't improving the American mind, but it sure is making someone a lot of money."
Rehabilitating Halloween
For children, the allure of the holiday has been the trick or treating—the dressing up in costumes and receiving of candy. However, there are ways to help your children re-orient their thinking to be more Christ-centered in the midst of Halloween.
"Halloween is an expression of our faith life," says Wier. "It was put on the church calendar in 610 as a celebration of all those men and women who gave their lives for their faith. We think that's worth celebrating. We want our children to know about their Christian heritage."
Have something to say about this article? Leave your comment via Facebook below!
advertise with us
Example: "Gen 1:1" "John 3" "Moses" "trust"
Advanced Search
Listen to Your Favorite Pastors