Thanksgiving and National Repentance
Michael Craven, The Center for Christ & Culture
Wednesday, November 02, 2011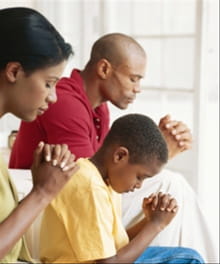 And I recommend to them that while offering up the ascriptions justly due to Him for such singular deliverances and blessings, they do also, with humble penitence for our national perverseness and disobedience...and fervently implore the interposition of the Almighty Hand to heal the wounds of the nation and to restore it as soon as may be consistent with the Divine purposes to the full enjoyment of peace, harmony, tranquillity and Union.
America, in its folly, has been in the process of severing its national identity and dependence from the God who has given it birth and blessed it for so long. Therefore, it seems to me that we might be well served to recall the proclamation of these great men set aside for this Thanksgiving holiday and once again give thanks to Almighty God for His longsuffering patience and mercy toward this nation and humbly repent of our national rebellion and wanton disregard for all that is holy and just.
This national repentance begins in the church of Jesus Christ, which has seemingly lost its way; abandoned [practically] its first love and so often conformed to the world. May we on this Thanksgiving Day acknowledge the many and abundant blessings of Almighty God accompanied by a deep and sorrowful repentance for our individual, corporate and national sins. This, my dear brothers and sisters, is our only hope and it is for this real hope and the promise of forgiveness that we can give thanks indeed!
May the Lord, in His great mercy, pour out His spirit upon you, your families, His church and this nation this Thanksgiving Day.
Comment on this article here
Request e-mail delivery of Michael's weekly commentary here
Subscribe to Michael's free podcast here
S. Michael Craven is the Founding Director of the Center for Christ & Culture, a ministry of the National Coalition for the Protection of Children & Families. The Center for Christ & Culture is dedicated to renewal within the Church and works to equip Christians with an intelligent and thoroughly Christian approach to matters of culture in order to recapture and demonstrate the relevance of Christianity to all of life. For more information on the Center for Christ & Culture, additional resources and other works by S. Michael Craven visit www.battlefortruth.org. Michael lives in the Dallas area with his wife Carol and their three children.
c. Michael Craven 2006. Used with permission.
Visit Crosswalk's Thanksgiving Facebook page at www.facebook.com/iAmThankful.
Have something to say about this article? Leave your comment via Facebook below!
advertise with us
Example: "Gen 1:1" "John 3" "Moses" "trust"
Advanced Search
Listen to Your Favorite Pastors