Radical Witness: A Sermon by Pastor Bob
Here is Pastor Bob's sermon for today. Please pass it along to anyone you know who, for whatever reason, couldn't make it to church this morning. Gob bless.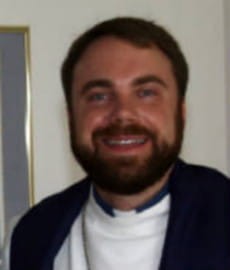 Radical Witness
A sermon by Pastor Bob
February 5, 2012
Text: Matthew 10:40-42
Matthew 10:40-42

"Anyone who welcomes you welcomes me, and anyone who welcomes me welcomes the one who sent me. Whoever welcomes a prophet as a prophet will receive a prophet's reward, and whoever welcomes a righteous person as a righteous person will receive a righteous person's reward. And if anyone gives even a cup of cold water to one of these little ones who is my disciple, truly I tell you, that person will certainly not lose their reward."
–Have you ever served on a jury?
–A few years ago I had such an opportunity.
–I had not served on a jury before and I was very excited.
–Would it be a murder trial? Kidnapping? Drug smuggling?
–You can imagine my disappointment when I discovered the trial was for a speeding ticket!
–But it was a doozy of a ticket: the defendant was charged for driving over 100 miles an hour.
–It least that's what the state patrolman said when he witnessed the car blazing past him on the other side of the highway.
–But the patrolman hadn't actually clocked the car with his radar gun.
–He couldn't, because he was on the other side of the road, and by the time another patrolman caught up to him, the car had slowed down.
–So what to do?
–The patrolman witnessed that the driver was going much faster than the rest of the traffic, which was going roughly the speed limit.
–The patrolman had experience and training that informed him of the accuracy of his witness.
–Yet was it enough?
–Without a smoking radar gun, was the patrolman's testimony witness enough?
–I remember that trial when I think about what it means to be a Christian witness.
–It's not always easy to witness to our faith.
–We have no uncontroversial piece of data about the existence, actions and incarnation of God.
–Basically, until Christ comes again—until the dead are raised, and the culmination of the Kingdom of God is fulfilled—-there are still a lot of questions on the table about God.
–It is the nature of our faith.
–It is not always an easy witness.
–Jesus realized this as he sent out his disciples to share the gospel with the world.
–He sent out his disciples with words that we overhear in chapter 10 of Matthew's gospel.
–In the verses before, Jesus tells them that being a disciple is not easy.
–First of all, witnessing to our faith is not a money-maker.
–Second, Jesus pushes his disciples beyond their comfort zones.
–To share with those who are wounded both inside and out.
–To be with those who society casts aside.
–Jesus does not just send us to the neighbor next door, but to those who we would never consider our neighbor.
–Third, Jesus also realizes that witnessing to the gospel can be met with disbelief and utter rejection.
–People today point to the difficulties of the Christian churches.
–Given the scandals, misconduct, and the often unchristian rhetoric of some Christians, many folks are put off by the Church.
–And it has become culturally popular in some circles to not have any affiliation with a specific organized religion or community.
–Fourth, when it comes to witnessing the reality of Christ in our lives, we may find our priorities challenged.
–I ask us all this morning, what do you and I put before our God?
–Our families? Our friends? Our job? Our leisure?
–You must not miss the radicality of Jesus' words to his disciples and to us.
–We do our best to try and domesticate Jesus' call of discipleship and witness.
–We turn them into rules, into steps for better living.
–We sprinkle them into the cracks of our lives.
–But we are so careful not to let them take root in us.
–But what if they did?
–What if we let this gospel loose in our lives?
–What if we allowed it to take hold of our actions, our relationships, and everything we hold dear?
–What if we were a witness of Christ's abiding love to not only the world but to the very core of our selves.
–Could we stand to let God into the depths of our hurt, into our shame, into what keeps us from truly living?
–Is it possible to allow the Spirit of God in? Do we dare?
–This morning we will witness such a moment in Anne's baptism.
–Anne, our exchange student from China, has over the past year graced her host family, the Dunns, and our own community with her warmth, her curiosity, and her newly found faith.
–Such a faith came from Anne's own persistent quest to understand, but also from the persistent witness of her new sister, Rachel Dunn.
–Rachel as you might suspect, is one of God's busiest disciples.
–And besides sharing her life with Anne over this past year, she shared her God.
–And now Anne and Rachel are not only sisters through a year of living together, but are sisters forever in God.
–They are family in the deepest sense.
–And we are so lucky to be the larger family that is blessed by such a relationship.
–We are a crucible for God's love.
–A place of the Living Word.
–A table where one is fed.
–If you are looking for the truth of God with radar gun precision then you are actually in the right place.
–For you—for we—truly are the body of Christ.
–As Christ says in our gospel reading this morning:
–"Whoever welcomes you welcomes me, and whoever welcomes me welcomes the one who sent me."
–God bless you in your own journey of faith and witness.
–God bless you in your relationships and work.
–God bless as you find yourselves caught in God's love.
---