"Different Kind of Free" - Music Review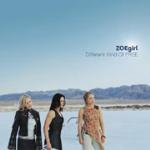 Artist:    ZOEgirl
Label:   Sparrow Records

It's not always easy being a teenage girl in the fast lane of today's pop culture superhighway, and that's what makes ZOEgirl's empathetic dance-rock all the more valuable.

This third release from the female trio addresses issues ranging from unconditional love ("Love Me for Me") to extremely serious topics like suicide ("Wait"), with an irresistible beat that's inventive and sounds that show a new maturity from the group's previous offerings.

Honest-to-goodness rock guitars fatten the sound on the title track which separates ZOEgirl from some of the other more frothy vocal groups on the scene today. The passionate singing on this album nicely matches the serious tone of its material. The worshipful opener, "Beautiful Name," brings to mind Rebecca St. James' intensity, whereas "Feel Alright" is a drum-driven track with a Sheryl Crow-ish quality.

It's hard these days to "be in this world but not of it," but "Different Kind of Free" offers plenty of good advice on ways to be different and, in this case, godly kinds of girls.

Copyright © 2003 CCM Magazine.  Used with permission.  All rights reserved.  Click  here to subscribe.