"Re:Mix Momentum" - Music Review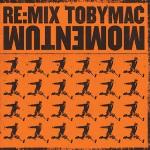 Artist: tobyMac
Label: Forefront Records

On this collection of remixes, 10 songs from tobyMac's 2001 "Momentum" album get makeovers that range from subtle to extreme. Either way, the changes give "Momentum" — a fine album already — an urban feel that's even closer to tobyMac's dc talk roots.
To achieve this result, the producers stripped away the nu-metal guitar riffs that dominated "Momentum"'s heaviest songs. On two new versions of "Yours," heavy beats and turntable scratches replace the guitar crunch. The same goes for the remix of "Extreme Days," which trades its rock heritage for tooth-rattling bass notes and clever drum programming.
Some cuts are sliced and diced into different animals entirely. A version of "Irene" by Jon Foreman of Switchfoot uses snippets of lyrics to condense the song. The "ghost" remix of "Get This Party Started" evokes the "Fame"-era funk of David Bowie. And Tony McAnany turns "Do You Know" into a symphonic power ballad. Cool stuff all around.
Check out these Toby Mac music videos from Godtube.com.
Used by permission. CCM Magazine © 2003 Click here to subscribe.