Something for Rockers, God-Lovers on "Finally Awake"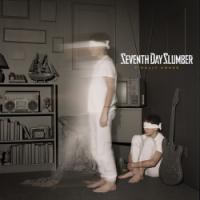 Artist: Seventh Day Slumber
Title: "Finally Awake"
Label: BEC Recordings
Seventh Day Slumber serves up third album, "Finally Awake," drenched in fervency and more of their own guitar-heavy pop-metal fare.
From the beginning, Seventh Day Slumber made their allegiances clear. Always willing to address the tough issues confronting their young audiences, the quartet (lead vocalist Joseph Rojas, guitarist Jeremy Holderfield, bassist Joshua Schwartz, and drummer Ray Fryoux) unapologetically offered the Solution that they themselves had found so deeply satisfying: Christ. "Finally Awake" continues this straightforward theme, sheathed in an appealing array of high-energy, hooked-out heavy rockers. Containing more of their earlier grunge feel than "Picking Up the Pieces," this third release for BEC Recordings exemplifies the strength they proclaim lyrically.
The title track opens things up with hard-hitting guitars and extracurricular whistles, coming on strong from the get-go, which I love. The lyrics are well-written, celebrating deliverance from the self-loathing promoted by the culture. The elation continues with the howling "Last Regret," featuring Holderfield's nimble guitar work. The first single follows, "Missing Pages," and it's a straight-up knockout. The mid-tempo track opens a bit lighter, both guitars and vocals glistening over descriptive lyrics that face addiction head-on, offering hope in Christ. Another encourager is "Always," pointing directly once again to Christ's strength.
There's a nice diversity on "Finally Awake," showcasing Slumber's agility on hard-edged rockers (the thundering "My Only Hope" and fiercely orchestrated standout "Burning Bridges") and slightly quieter worship tracks (the rich sonic touches of "Undone"). There's passion to spare, from the openly adoring "On My Way Home," to the gritty "Broken Buildings," the Mac Powell-like vocals asking, "What do you see in me? Is there beauty in these broken buildings?"
"Finally Awake" closes on a poignant note, with the emotionally charged "Every Saturday," a final strong declaration of faith. Seventh Day Slumber's latest will satisfy rockers and God-lovers alike.


© 2007 CMCentral.com. All rights reserved. Used with permission.



Visit CMCentral.com now and join the single largest online community of Christian music fans on the internet. CMCentral features daily music news, exclusive interviews, album reviews, weekly devotions and feature articles written by some of your favorite Christian artists, and much more. CMCentral is also the home of the most popular Forum for Christian music fans that you'll find anywhere on the Internet. Come see what all the buzz is about!
Check out Seventh Day Slumber music videos at Godtube.com.