Scandalous
Mark Steele, Author
Tuesday, August 04, 2009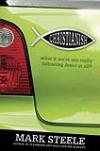 Of course, an appropriate spanking is exactly that. Just enough to sting—and definitely on the derriere. And, of course, the act is attached to teaching and forgiveness and a walking through of the issue so that it leads to reconciliation and change and love.
That's the pretty version.
The boys weren't seeing the benefits just yet.
Jackson and Charlie have a very different approach to the news of an impending spanking. Charlie just stares. Wide-eyed. His brain immediately begins clicking and whirring. Within fifty seconds, he orchestrates a mental plan of how best to charm his way through the incident with minimal pain. By a sheer act of will and a reasoning through percentages, he determines swiftly that playing the situation down will cause it to end with only a slight portion of hurt to his person.
Jackson destroys everything within his wake.
Not literally. He doesn't throw things or flail. But within a small eight-inch radius, the planet implodes. Jackson takes the news that he will receive one spank the way most react in a house fire. He hugs his favorite belongings close to his body while screaming and rolling on the floor.
I greeted Jackson into the spanking chamber (our bedroom) first as I knew that the twenty-two solid minutes it would take to actually deliver the one spank would be an epic purgatorial wait (and hence, bonus lesson) for Charlie.
The reason a Jackson spanking can take so long is because we don't believe in wrestling our kids into the spanking. There has to be the moment of surrender. Charlie can fake surrender like the best of them—but Jackson? Not so much.
Lean over, son.
I CAN'T! I NEED A GLASS OF WATER FIRST!
You can have a glass of water after your spank. It will take ten seconds.
I MUST HAVE A GLASS OF WATER FIRST! I'M THIIIIIRSTY!
You cannot have a glass of water until after your spank.
No one tells a father he is going to be put in a position to say these sorts of irrational things.
You're stalling. Let's just get the punishment over with.
NOW I HAVE TO GO TO THE BATHROOM!
What?
YOU CAN'T SPANK ME BECAUSE I'LL PEE! I HAVE TO GO TO THE BATHROOM FIRST!
You can go to the bathroom after I spank you. We would be finished already…
YOU'LL WHACK THE PEE OUT OF ME!
I promise I won't whack the pee out of you.
See. Irrational things. Of course, this is when Jackson moves from delay tactics and transitions into physical blockers. As I lean him over and pull back the spank stick, all sorts of appendages start flailing about spastically like Muppet tails, blocking the punishment trajectory. I've never seen the kid move so fast as he does when he strategizes a spank block.
ARM HAND ARCH BACK!!
ARM, FOOT, FOOT, HAND FINGERS
PUSHING AWAY ARM HAND, DOUBLE-HAND, FOOT HEAD
BOTH FEET (wow)!
ARM, HANDARCH!
The kid is Mister Miyagi-ing me, suddenly Jean-Claude Van Damme, blocking every attempt to close the deal. He won't play football, but this he can do. I finally settle Jackson down.
Jackson, I'm not going to fight you. You have to decide that you're going to accept the consequences for what you've done. You've fought me so long, that now you're going to get—
(Wait for it.)
—two spanks.
Son. Of. A.Gun.
I had no idea what the kid had in him. He began to writhe and weep and gnash his teeth. I'd never seen gnashing—but it's actually very impressive. I believe he may have even utilized sackcloth. The boy just flat-out wailed like he was being branded with a hot iron. To the neighbors, it must have sounded like I was stunning him with a police taser.
And then, Jackson moved away from delaying and blocking—to step three: blame.
IT'S MORGAN! SHE'S THE LIAR!! SHE LIES ALL THE TIME!
Have something to say about this article? Leave your comment via Facebook below!
advertise with us
Example: "Gen 1:1" "John 3" "Moses" "trust"
Advanced Search
Listen to Your Favorite Pastors