Scandalous
Mark Steele, Author
Tuesday, August 04, 2009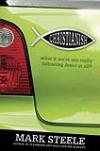 And we wonder why no one wants to be a Christian.
We've got to do some serious redefining of what that word means.
I am in the same boat. I am guilty as charged for all these crimes. I look back on my life and I see more times than not that I wish someone did not know I was a Christian. Why? Because my unkind words and bad behavior probably did more damage than good to the reputation of Jesus. Yes, this is spilled milk—but the longer we resist cleaning it up, the more sour it will smell.
The root, of course, comes down to the why.
Why do we as Christians strive for extremely temporal things and call them Jesus? As a people group, we are currently defined by the modern world as unloving and unwilling to gain a better understanding of any individual who is not already a Christian. These characteristics have absolutely nothing to do with Jesus. They are petty and selfish. They are Christianish. And yet, they are our very own bad habits. Why? Don't we mean well? Don't we want to live for Christ—to share His love with those around us? Don't our mistakes stem from our frustration with the state of society? With what we perceive as the rebellion of modern mankind against the ideology of God?
Actually—that is the core of the problem. The world is broken. Completely broken. What we neglect to accept is that we are broken also.
We each come from damaged goods and scandalous histories and then pretend those negatives have no effect on us. The result equals a sea of followers of Jesus who can't properly see or hear Him beyond the chaos of our own lives. So, instead of following Him, we say we are following Him while actually following a combination of Him and our own chaos. Sometimes we get it right, sometimes we get it wrong, but most of the time it is a mixture of the two. Just enough of God to make a difference. Just enough of ourselves to leave a questionable aftertaste.
So, the world sees that God is real—but at the same time, something doesn't quite set well with them about Him. What is the negative common denominator?
The navel-gazing.
We are supposed to act as if everything is perfect, but deep down, we know nothing quite is. So, our silent desperate prayer is also a stare. A constant internal eyeball on the broken shards of ourselves. Deep down, most of us feel unglued—in pieces—longing for our Christian zealousness to turn to superglue. We feel that if we just do enough, act out the right formula, all the pieces will melt and coagulate like Robert Patrick in Terminator 2. That we will not only become whole, but indestructible. So, we wall up our compassion and act shatter-proof to a world at large while inside we are falling to pieces.
And we believe this reveals Jesus.
The great news is that Jesus looks down on us with the same tender compassion that He has for the rest of the world. He sees our pain. He sees our scandal. He knows what we are desperately trying to do, and He wants us to succeed.
But there is a realization that we must first accept.

We will never become indestructible by staring at our pieces.

We are not supposed to become indestructible. Untouchable. Safe.

And we aren't supposed to be staring at our own pieces at all.
Because when we stare at our own pieces, we cannot see the solution.
We only find the solution when we stare instead into the eyes of Christ—and in those eyes, see the reflection of the hurting world.
We know this, but every gut instinct tells us to shout out, "I CAN'T! How can I help a hurting world, when I can't even figure out how to glue back the broken pieces that make up my life?!" This is when Jesus changes our perspective. This is when He says softly…

You are not pieces.
You are my piece.
The Christianish approach is to see our lives as irreparable shards—always striving for the glue. But that pursuit is fruitless. Because God did not put your glue in you. He did, however, make you the glue for someone else.
Have something to say about this article? Leave your comment via Facebook below!
advertise with us
Example: "Gen 1:1" "John 3" "Moses" "trust"
Advanced Search
Listen to Your Favorite Pastors