In the Ring with Satan
Woodrow Kroll

Back to the Bible

2011

19 Apr

COMMENTS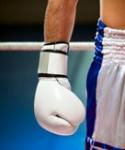 Do you feel like you're in the middle of a boxing match and close to being knocked out? Has the economy forced you onto the ropes and out of a job? Are you battling cancer or faced with discord in your marriage? If the circumstances you're facing in life are creating fear, discouragement, anger or bitterness, Satan may be using them to knock you out as a fighter for God.
Satan attacks us because we love and serve the living God. He has waged a long war against God, and some days, it feels like He's winning—corruption and dishonesty abound in every area of society; we face daily temptations and challenges; we become discouraged and tired. Yet, we know how this war will end. We know God will be victorious.
But how do we cope now? Need a user's guide to maneuver the tough terrain of this life? Here are just a few suggestions to help you stay "in the ring."
Know your enemy. Genesis 3:1 is the first description of Satan in the Bible: "The serpent was more crafty than any other beast of the field that the Lord God had made" (esv). Satan is subtle, sneaky and he doesn't play fair.
He's like the welterweight boxing champion of 1896, "Kid" McCoy who discovered one of his contenders was deaf. In the third round, McCoy signaled to his opponent that the round was over—only to deck him as soon as his back was turned.
If you and I expect Satan to play fair, we'll end up dropping our defenses at a critical moment and hit the mat hard.
Avoid the devil's traps. Identify the traps your adversary sets for you and resist them. He knows your stress and loves to throw temptation your way. The wisdom found in the Bible will "save you from evil people, from those whose words are twisted." (Prov. 2:12-13, NLT). Let the Bible be your guide, and you'll avoid the traps littering your way.
Finally, understand that you have the resources of heaven at your disposal. Remember the story about Elisha in 2 Kings 6:8-17 when the king of Syria sent troops and chariots to seize him? His young servant was terrified when he saw the amassed army. But Elisha prayed, "'O LORD, please open his eyes that he may see.' So the Lord opened the eyes of the young man, and he saw, and behold, the mountain was full of horses and chariots of fire all around Elisha" (v. 17). God sent horses and chariots of fire to rescue His prophet. He will care for you too.
My prayer for is that each day you would win the day. You can if you recognize the enemy; faithfully engage in reading God's Word daily, digesting what you read; and depend on the power of God to care for you.
[Content provided by OnePlace.com]