Lots of headline news swirling around in our world these weeks.
Difficult stories, political battles, wars with words, suffering, unrest, uncertainty, terrorist threats, disaster, violence, and evil.
The images and stories can often leave us feeling overwhelmed with fear and worry, for our children, for the future, for believers, and for our nation.
Yet God's Truth breaks through all that mess. He breathes peace and assurance that no matter what, He still holds all things in His hands. He's not anxiously pacing Heaven's floors. He's not thinking up a Plan B since Plan A didn't work. He reminds us that He's still in control, and is the security of our days.
"And He will be the stability of your times, A wealth of salvation, wisdom and knowledge; The fear of the LORD is his treasure." Isaiah 33:6
Woke up with this old song in my mind, On Christ the Solid Rock I Stand. Have been singing it all day, thinking closely about these words penned over 150 yrs. ago by Pastor Edward Mote. Because no matter what generation we're living in, they still hold true today.
God's word says this, "Everyone then who hears these words of mine and does them will be like a wise man who built his house on the rock." Matt. 7:24
There are lots of opinions and voices are out there for sure. Sometimes we just need to turn it all off and listen to the One voice who matters most.
That's what Pastor Mote did. As a young boy, he grew up neglected, spending much of his time on the streets while his parents managed a pub in London. He said of his younger days, "So ignorant was I that I did not know there was a God." But at age 18 he heard God's Word and it changed his heart - his life. He was baptized and went on to lead a long, successful career as a cabinet maker. He wrote this song on his walk to work one day. Strong, faith filled words that came from the heart of one sold out soul living boldly for Christ. At age 55, Mr. Mote became pastor of a small Baptist church, and it's reported that he never missed a Sunday in the pulpit for the next 21 yrs. He left this world for his heavenly home at age 77, leaving his mark in this world through songs inspired by the heart of God.
These powerful words of an old hymn are filled with such truth, grace, and relevance still for this day:
"My hope is built on nothing less
Than Jesus' blood and righteousness;
I dare not trust the sweetest frame,
But wholly lean on Jesus' name.
On Christ, the solid Rock, I stand;
All other ground is sinking sand.
All other ground is sinking sand."
The Truth remains through all eternity.
Jesus is the Rock that won't move.
He's the Rock that won't budge.
He won't shift this way or that based on popular opinion.
He won't ever sink or give way to defeat.
He is sure and safe, loving and gracious, forgiving and faithful, powerful and strong, and His words are Truth, bringing life and freedom.
He paid the price on Calvary's cross, He took our sin and shame, bore it all, on our behalf, so that we could live free. The power of the Cross and the Resurrection of Christ broke the curse of death and shame.
That's what real love is.
The ultimate sacrifice.
Such huge, extravagant grace.
Resting there today.
On the Rock.
Hope you are too.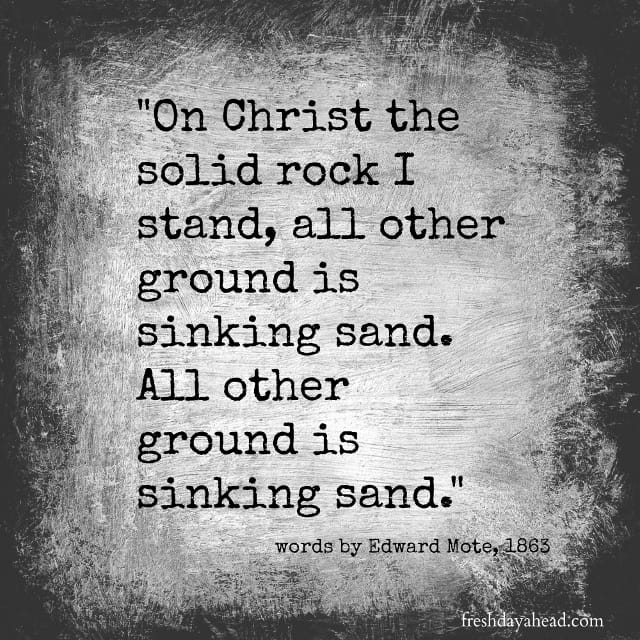 (This post was first published June 2015, it also appears here: http://debbiemcdaniel.com/2016/09/25/christ-solid-rock-stand/)
Debbie McDaniel is a writer, pastor's wife, mom to three amazing kids (and a lot of pets). Join her each morning on Fresh Day Ahead's facebook page, https://www.facebook.com/DebbieWebbMcDaniel, for daily encouragement in living strong, free, hope-filled lives.
Find her also at http://twitter.com/debbmcdaniel and http://www.debbiemcdaniel.com.
President's Day is a day to remember, and honor, those who have led our nation through many long years, who have stood strong, and made many difficult decisions to keep our freedoms safe. And it's a reminder to continue to pray for those who do, and will, continue to lead our country.
And though we can be thankful for godly, wise leaders who have stood courageously through many difficult times in history, and the principles for which our nation was founded, may God help us always to remember where true freedom is found, through His Son, Jesus Christ.
31 Quotes and Verses, Reminders of Where Freedom Is Found:
"So if the Son sets you free, you will be free indeed." John 8:36
"For the law of the Spirit of life has set you free in Christ Jesus from the law of sin and death." Rom. 8:2
"And you will know the truth, and the truth will set you free." John 8:32
"Live as people who are free, not using your freedom as a cover-up for evil, but living as servants of God. Honor everyone. Love the brotherhood. Fear God. Honor the emperor." 1 Pet. 2:16-17
"Now the Lord is the Spirit, and where the Spirit of the Lord is, there is freedom." 2 Cor. 3:17
"For freedom Christ has set us free; stand firm therefore, and do not submit again to the yoke of slavery." Gal. 5:1
"For you were called to freedom, brothers. Only do not use your freedom as an opportunity for the flesh, but through love serve one another." Gal. 5:13
"The Spirit of the Sovereign LORD is on me, because the LORD has anointed me to proclaim good news to the poor. He has sent me to bind up the brokenhearted, to proclaim freedom for the captives and release from darkness for the prisoners," Is. 61:1
"It is the duty of all nations to acknowledge the providence of Almighty God, to obey his will, to be grateful for his benefits, and humbly to implore his protection and favors." – George Washington
"If we ever forget that we are One Nation Under God, then we will be a nation gone under." - Ronald Reagan
"Sir, my concern is not whether God is on our side; my greatest concern is to be on God's side, for God is always right." - Abraham Lincoln
"The Bible is the Rock on which this Republic rests." - Andrew Jackson
"The God who gave us life, gave us liberty at the same time." - Thomas Jefferson
"Within the covers of the Bible are the answers for all the problems men face." - Ronald Reagan
"The cost of freedom is always high, but Americans have always paid it. And one path we shall never choose, and that is the path of surrender, or submission." - John F. Kennedy
"Hold fast to the Bible. To the influence of this Book we are indebted for all the progress made in true civilization and to this we must look as our guide in the future." – Ulysses S. Grant
"America will never be destroyed from the outside. If we falter and lose our freedoms, it will be because we destroyed ourselves." - Abraham Lincoln
"Above all, we must realize that no arsenal, or no weapon in the arsenals of the world, is so formidable as the will and moral courage of free men and women. It is a weapon our adversaries in today's world do not have." - Ronald Reagan
"We know what works. Freedom Works. We know what's right. Freedom is right." – George H.W. Bush
"Do not pray for easy lives. Pray to be stronger men." - John F. Kennedy
"When you see a rattlesnake poised to strike, you do not wait until he has struck to crush him." - Franklin D. Roosevelt
"My fellow Americans, ask not what your country can do for you, ask what you can do for your country." - John F. Kennedy
"Terrorist attacks can shake the foundations of our biggest buildings, but they cannot touch the foundation of America. These acts shatter steel, but they cannot dent the steel of American resolve." - George W. Bush
"Let us be sure that those who come after will say of us in our time, that in our time we did everything that could be done. We finished the race; we kept them free; we kept the faith." - Ronald Reagan
"The only thing to fear is, fear itself." Franklin D. Roosevelt
"We hold these truths to be self-evident: that all men are created equal; that they are endowed by their Creator with certain unalienable rights; that among these are life, liberty, and the pursuit of happiness." – Thomas Jefferson
"America is best described by one word, freedom." - Dwight D. Eisenhower
"A thorough knowledge of the Bible is worth more than a college education." – Theodore Roosevelt
"The momentum of freedom in our world is unmistakable - and it is not carried forward by our power alone. We can trust in that greater power Who guides the unfolding of the years. And in all that is to come, we can know that His purposes are just and true." - George W. Bush
"Today we did what we had to do. They counted on America to be passive. They counted wrong." - Ronald Reagan
"Nobody will ever deprive the American people of the right to vote except the American people themselves and the only way they could do this is by not voting." – Franklin D. Roosevelt
May God guide our leaders, and give them wisdom and courage. May He protect our country. May He shine on this land and strengthen us with His grace and power. May God bless America.
Dear God,
Thank you for freedom, and the price that was paid by Christ so that we could live free. Thank you for establishing the foundation of our land on the truth that a nation under God is blessed and secure.
Thank you for godly leaders who have gone before us, and led faithfully and humbly before you. We pray for our President, for all those in authority who lead today, and for those who will lead tomorrow. Give them your wisdom, fill them with courage, help them to press in close to you to hear your heartbeat for our nation.
Today, we are free to worship you. We are free to pray. We are free to read your Word. We are free to speak. We are free to share. And for this, we are incredibly grateful.
Thank you Lord that your Presence is with us in whatever we face today, and in the future, and that your power goes before us.
In the Mighty name of Jesus,
Amen.
"Blessed is the nation whose God is the Lord..." Psalm 33:12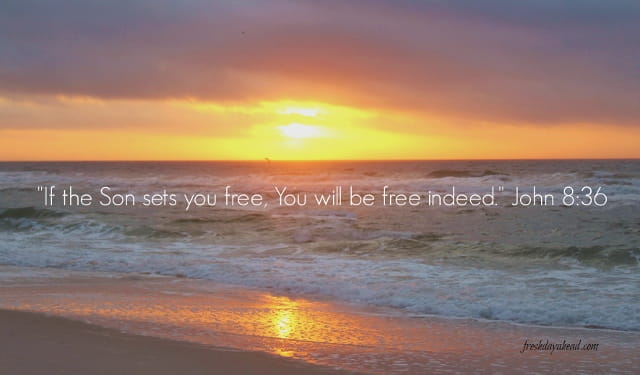 (This article was first posted on Crosswalk Feb. 2015)
Debbie McDaniel is a writer, pastor's wife, mom to three amazing kids (and a lot of pets). Join her each morning on Fresh Day Ahead's facebook page,http://www.facebook.com/DebbieWebbMcDaniel, for daily encouragement in living strong, free, hope-filled lives. Find her also at http://twitter.com/debbmcdaniel.
---
This article is part of our larger Inspiring Quotes resource meant to encourage strengthen your faith. Visit our most popular quotes by well known Christians and theologians to find more inspiration. Remember, the Holy Spirit can work through us when we increase our faith and share it with us! Please pass along any quotes that touch your heart because you never know light you can shine on someone else's dark day!
Prayer Quotes - Inspiring and Encouraging!
Thanksgiving Quotes - Experience Gratitude!
Christmas Quotes
30 Inspiring Christian Quotes
Hope Quotes
God's Love Quotes
Dr Martin Luther King Jr Quotes
Dietrich Bonhoeffer Quotes
Charles Spurgeon Quotes
Billy Graham Quotes
Corrie Ten Boom Quotes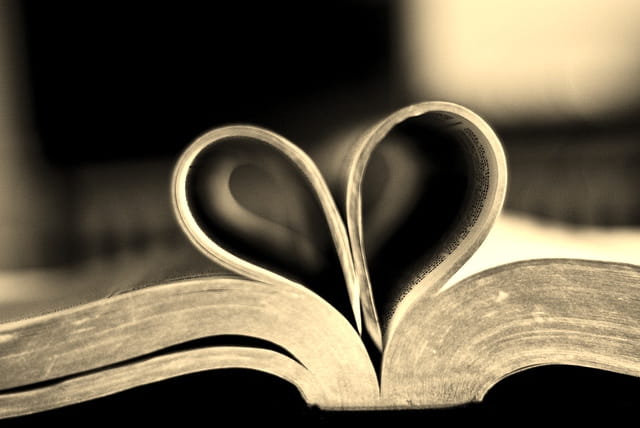 Don't let the enemy steal your joy this week. He'll try you know. Because it's a week about love and he hates that. He despises everything about real love, because real love starts with God.
He's a liar and a deceiver. He rejoices when we choose pathways of grey, eyes blinded to the truth laid out in black and white. He loves to incite evil and hate. Because he wants nothing more than to keep us pursuing things swaddled up in lies, farther and farther away from God.
He'll remind you again of your struggles. He's an expert in our weaknesses, and whispers lies of defeat. Making us feel all alone. Heaping on condemnation, guilt and shame. He hisses our way, words straight from the pit, "You'll never change," "You'll never get past what you did," "You'll never be able to forgive," "You'll never be loved..."
He works hard in our marriages, creating distance, fueling quarrels, getting us overly focused on our "own needs," that we lose sight of the other. That pressure of getting it all exactly right, to meet every need, is a hard burden to carry, and one we were never intended to. We feel let down. Neglected. Unloved. Comparing our spouse and what they did or didn't do, with what everyone else did or didn't do.
He steals away our attention from the most important. For even he knows the truth, that God is the only One who can meet our deepest needs. And he'll do anything to keep us from Him.
He'll keep us so busy, hurried, and distracted, that we never have time to show love and care for another. He loves it when we never get around to spending time with God. The devil desires to keep us going everywhere but getting nowhere, and certainly nowhere closer to Truth.
But no matter what our situation or the hard times we might be facing, we can choose to focus on what God says. He reminds us, "Love covers a multitude of sins." Love covers any shade of grey, every uncertainty, and all worries or fears. It's greater than any obstacle or struggle we face in this life. The powerful love of Christ wins every time against the enemy's lies of defeat. We don't have to let him win. We can choose the better way. We can choose whose voice we listen to. We can choose to walk in truth. We can choose to walk in love.
God's love is perfect, faithful, unconditional, forgiving, all-encompassing, pure, lasting, sacrificial, strong, enduring, refreshing, redeeming, everlasting, lavish, full, inspiring, hope-filled, gracious, and so much more. It's never based on us, our abilities, or striving to ever be good enough. It's found in Him, His character, and huge capacity to give. It knows no boundaries and has no limits. There's no place too deep that His love can't reach us still.
His love letter to us breathes grace, strength, hope, and peace. Believe the truth He speaks over you...
50 Verses of Love, from God's Heart to Us:
"For God so loved the world that he gave his one and only Son, that whoever believes in him shall not perish but have eternal life." John 3:16
"Greater love has no one than this: to lay down one's life for one's friends." John 15:13
"Above all, love each other deeply, because love covers over a multitude of sins." 1 Peter 4:8
"But God demonstrates his own love for us in this: While we were still sinners, Christ died for us." Rom. 5:8
"But you, O Lord, are a compassionate and gracious God, slow to anger, abounding in love and faithfulness." Psalm 86:15
"Let all that you do be done in love." 1 Corinthians 16:14
"So now I am giving you a new commandment: Love each other. Just as I have loved you, you should love each other. Your love for one another will prove to the world that you are my disciples." John 13:34-35
"There is no fear in love. But perfect love drives out fear, because fear has to do with punishment. The one who fears is not made perfect in love. We love because He first loved us." 1 John 4:18-19
"So now faith, hope, and love abide, these three; but the greatest of these is love." 1 Corinthians 13:13
"If you love me, you will obey what I command." John 14:15
"Above all, be loving. This ties everything together perfectly." Colossians 3:14
"Dear friends, let us love one another, for love comes from God. Everyone who loves has been born of God and knows God. Whoever does not love does not know God, because God is love." 1 John 4:7-8
"Hate stirs up trouble, but love forgives all offenses." Proverbs 10:12
"Love must be sincere. Hate what is evil; cling to what is good. Be devoted to one another in brotherly love. Honor one another above yourselves." Romans 12:9-10
"Give thanks to the Lord, for he is good; his love endures forever." 1 Chronicles 16:34
"A friend loves at all times, and a brother is born for a time of adversity." Proverbs 17:17
"The Lord your God is with you, he is mighty to save. He will take great delight in you, he will quiet you with his love, he will rejoice over you with singing." Zephaniah 3:17
"He has shown you, O man, what is good. And what does the Lord require of you? To act justly and to love mercy and to walk humbly with your God." Micah 6:8
"Be completely humble and gentle; be patient, bearing with one another in love." Ephesians 4:2
"For Christ's love compels us, because we are convinced that one died for all, and therefore all died." 2 Corinthians 5:14
"But love your enemies, do good to them, and lend to them without expecting to get anything back. Then your reward will be great…" Luke 6:35
"Husbands, love your wives, as Christ loved the church and gave himself up for her." Ephesians 5:25
"But you are a forgiving God, gracious and compassionate, slow to anger and abounding in love…" Nehemiah 9:17
"Let them give thanks to the Lord for his unfailing love and his wonderful deeds for men, for he satisfies the thirsty and fills the hungry with good things." Psalm 107:8-9
"For you have been called to live in freedom, my brothers and sisters. But don't use your freedom to satisfy your sinful nature. Instead, use your freedom to serve one another in love. For the whole law can be summed up in this one command: 'Love your neighbor as yourself.'" Galatians 5:13-14
"But the fruit of the Spirit is love, joy, peace, patience, kindness, goodness, faithfulness, gentleness and self-control." Galatians 5:22-23
"Owe no one anything, except to love each other, for the one who loves another has fulfilled the law." Romans 13:8
"Your love, O Lord, reaches to the heavens, your faithfulness to the skies. Your righteousness is like the mighty mountains, your justice like the great deep." Psalm 36:5-6
"Live a life of love, just as Christ loved us and gave himself up for us as a fragrant offering and sacrifice to God." Ephesians 5:2
"Anyone who claims to be in the light but hates his brother is still in the darkness. Whoever loves his brother lives in the light, and there is nothing in him to make him stumble." 1 John 2:9-10
"How great is the love the Father has lavished on us, that we should be called children of God!" 1 John 3:1
"This is how we know what love is: Jesus Christ laid down his life for us. And we ought to lay down our lives for our brothers. If anyone has material possessions and sees his brother in need but has no pity on him, how can the love of God be in him? Dear children, let us not love with words or tongue but with actions and in truth." 1 John 3:16-18
"This is how God showed his love among us: He sent his one and only Son into the world that we might live through him. This is love: not that we loved God, but that he loved us and sent his Son as an atoning sacrifice for our sins. Dear friends, since God so loved us, we also ought to love one another. " 1 John 4:9-11
"His banner over me is love." Song of Songs 2:4
"The commandments…are summed up in the one command, 'Love your neighbor as you love yourself.' If you love others, you will never do them wrong, to love, then, is to obey the whole Law." Romans 13:9-10
"Place me like a seal over your heart, like a seal on your arm; for love is as strong as death…Many waters cannot quench love; rivers cannot wash it away." Song of Songs 8:6-7
"I have been crucified with Christ and I no longer live, but Christ lives in me. The life I live in the body, I live by faith in the Son of God, who loved me and gave himself for me." Galatians 2:20
"I will declare that your love stands firm forever, that you established your faithfulness in heaven itself." Psalm 89:2
"The earth is filled with your love, O Lord…" Psalm 119:64
"You were cleansed from your sins when you obeyed the truth, so now you must show sincere love to each other as brothers and sisters. Love each other deeply with all your heart." 1 Peter 1:22
"Jesus replied: 'Love the Lord your God with all your heart and with all your soul and with all your mind.' This is the first and greatest commandment. And the second is like it: 'Love your neighbor as yourself.'" Matthew 22:37-39
"In all these things, we are more than conquerors through him who loved us. For I am convinced that neither death or life, neither angels nor demons, neither the present nor the future, nor any powers, neither height nor depth, nor anything else in all creation, will be able to separate us from the love of God that is in Christ Jesus our Lord." Romans 8:37-39
"For God did not give us a spirit of timidity, but a spirit of power, of love, and of self-discipline." 1 Timothy 1:7
"Show proper respect to everyone: Love the brotherhood of believers, fear God, honor the king." 1 Peter 2:17
"But be very careful…to love the Lord your God, to walk in all his ways, to obey his commands, to hold fast to him and to serve him with all your heart and all your soul." Joshua 22:5
"'Though the mountains be shaken and the hills be removed, yet my unfailing love for you will not be shaken nor my covenant of peace be removed,' says the Lord, who has compassion on you." Isaiah 54:10
"Let love and faithfulness never leave you; bind them around your neck, write them on the tablet of your heart. Then you will win favor and a good name in the sight of God and man." Proverbs 3:3-4
"May the Lord make your love increase and overflow for each other…" 1Thess. 3:12
"Love is patient, love is kind. It does not envy, it does not boast, it is not proud. It is not rude, it is not self-seeking, it is not easily angered, it keeps no record of wrongs. Love does not delight in evil but rejoices with the truth. It always protects, always trusts, always hopes, always perseveres. Love never fails…" 1 Corinthians 13:4-7
"Because your love is better than life, my lips will glorify you." Psalm 63:3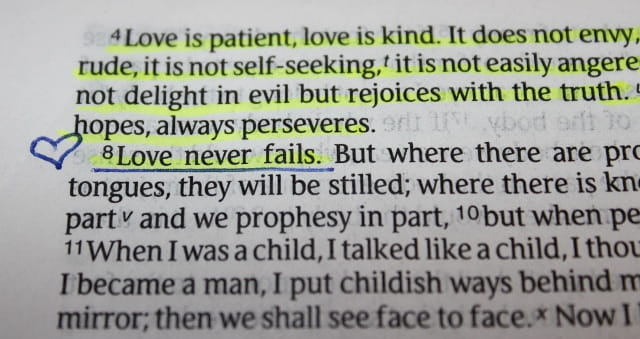 Live aware. Stay alert to the enemy's schemes. Choose whose voice you listen to. Keep close to the One who loves you more than you could ever imagine. Meditate on His words. Spend time in His Presence. And live a life of love.
(This article was first posted Feb. 2015)
Debbie McDaniel is a pastor's wife and mom to three amazing kids (and a lot of pets). Join her each morning on Fresh Day Ahead's facebook page, https://www.facebook.com/DebbieWebbMcDaniel,for daily encouragement in living strong, free, hope-filled lives.
Find her also at http://www.freshdayahead.comand http://twitter.com/debbmcdaniel.