The Bible is filled with many references to who Jesus is, His life, His Lordship, and what He came to do. Here's just some of those names, titles, and verses from God's Word.
As we read through, we can't help but give Him thanks and praise, Our Savior and Lord who sets us free…
50 Names and Titles of Jesus:
1. Almighty One – "…who is and who was and who is to come, the Almighty." Rev. 1:8
2. Alpha and Omega – "I am the Alpha and the Omega, the First and the Last, the Beginning and the End." Rev. 22:13
3. Advocate – "My dear children, I write this to you so that you will not sin. But if anybody does sin, we have an advocate with the Father--Jesus Christ, the Righteous One." 1 John 2:1
4. Author and Perfecter of Our Faith – "Fixing our eyes on Jesus, the author and perfecter of faith, who for the joy set before Him endured the cross, despising the shame, and has sat down at the right hand of the throne of God." Heb. 12:2
5. Authority – "Jesus said, 'All authority in heaven and on earth has been given to me." Matt. 28:18
6. Bread of Life – "Then Jesus declared, 'I am the bread of life. Whoever comes to me will never go hungry, and whoever believes in me will never be thirsty.'" John 6:35
7. Beloved Son of God – "And behold, a voice from heaven said, "This is my beloved Son, with whom I am well pleased." Matt. 3:17
8. Bridegroom – "And Jesus said to them, "Can the wedding guests mourn as long as the bridegroom is with them? The days will come when the bridegroom is taken away from them, and then they will fast." Matt. 9:15
9. Chief Cornerstone – "The stone which the builders rejected has become the chief corner stone." Ps. 118:22
10. Deliverer – "And to wait for his Son from heaven, whom he raised from the dead, Jesus who delivers us from the wrath to come." 1 Thess.1:10
11. Faithful and True – "I saw heaven standing open and there before me was a white horse, whose rider is called Faithful and True. With justice he judges and wages war." Rev.19:11
12. Good Shepherd - "I am the good shepherd. The good shepherd lays down his life for the sheep." John 10:11
13. Great High Priest – "Therefore, since we have a great high priest who has passed through the heavens, Jesus the Son of God, let us hold fast our confession." Heb. 4:14
14. Head of the Church – "And he put all things under his feet and gave him as head over all things to the church." Eph. 1:22
15. Holy Servant – "…and grant that Your bond-servants may speak Your word with all confidence, while You extend Your hand to heal, and signs and wonders take place through the name of Your holy servant Jesus." Acts 4:29-30
16. I Am – "Jesus said to them, "Truly, truly, I say to you, before Abraham was, I am." John 8:58
17. Immanuel – "…She will give birth to a son and will call him Immanuel, which means 'God with us.'" Is. 7:14
18. Indescribable Gift – "Thanks be to God for His indescribable gift." 2 Cor. 9:15
19. Judge – "…he is the one whom God appointed as judge of the living and the dead." Acts 10:42
20. King of Kings – "These will wage war against the Lamb, and the Lamb will overcome them, because He is Lord of lords and King of kings, and those who are with Him are the called and chosen and faithful." Rev. 17:14
21. Lamb of God – "The next day John saw Jesus coming toward him and said, "Look, the Lamb of God, who takes away the sin of the world!" John 1:29
22. Light of the World – "I am the light of the world. Whoever follows me will never walk in darkness, but will have the light of life." John 8:12
23. Lion of the Tribe of Judah – "Weep no more; behold, the Lion of the tribe of Judah, the Root of David, has conquered, so that he can open the scroll and its seven seals." Rev. 5:5
24. Lord of All – "For this reason also, God highly exalted Him, and bestowed on Him the name which is above every name, so that at the name of Jesus every knee will bow, of those who are in heaven and on earth and under the earth, and that every tongue will confess that Jesus Christ is Lord, to the glory of God the Father." Phil. 2:9-11
25. Mediator – "For there is one God, and one mediator between God and men, the man Christ Jesus." 1 Tim. 2:5
26. Messiah – "We have found the Messiah" (that is, the Christ)." John 1:41
27. Mighty One – "Then you will know that I, the Lord, am your Savior, your Redeemer, the Mighty One of Jacob." Is. 60:16
28. One Who Sets Free – "So if the Son sets you free, you will be free indeed." John 8:36
29. Our Hope – "…Christ Jesus our hope." 1 Tim. 1:1
30. Peace – "For he himself is our peace, who has made the two groups one and has destroyed the barrier, the dividing wall of hostility," Eph. 2:14
31. Prophet – "And Jesus said to them, "A prophet is not without honor, except in his hometown and among his relatives and in his own household." Mark 6:4
32. Redeemer – "And as for me, I know that my Redeemer lives, and at the last He will take His stand on the earth." Job 19:25
33. Risen Lord – "…that Christ died for our sins according to the Scriptures, that he was buried, that he was raised on the third day according to the Scriptures." 1 Cor. 15:3-4
34. Rock – "For they drank from the spiritual Rock that followed them, and the Rock was Christ." 1 Cor. 10:4
35. Sacrifice for Our Sins – "This is love: not that we loved God, but that he loved us and sent his Son as an atoning sacrifice for our sins." 1 John 4:10
36. Savior – "For unto you is born this day in the city of David a Savior, who is Christ the Lord." Luke 2:11
37. Son of Man – "For the Son of Man came to seek and to save the lost." Luke 19:10
38. Son of the Most High – "He will be great and will be called the Son of the Most High. The Lord God will give him the throne of his father David." Luke 1:32
39. Supreme Creator Over All – "By Him all things were created, both in the heavens and on earth, visible and invisible, whether thrones or dominions or rulers or authorities-- all things have been created through Him and for Him. He is before all things, and in Him all things hold together.…" 1 Cor. 1:16-17
40. Resurrection and the Life – "Jesus said to her, "I am the resurrection and the life. The one who believes in me will live, even though they die." John 11:25
41. The Door – "I am the door. If anyone enters by me, he will be saved and will go in and out and find pasture." John 10:9
42. The Way – "Jesus answered, "I am the way and the truth and the life. No one comes to the Father except through me." John 14:6
43. The Word – "In the beginning was the Word, and the Word was with God, and the Word was God." John 1:1
44. True Vine - "I am the true vine, and My Father is the vinedresser." John 15:1
45. Truth – "And you will know the truth, and the truth will set you free." John 8:32
46. Victorious One – "To the one who is victorious, I will give the right to sit with me on my throne, just as I was victorious and sat down with my Father on his throne." Rev. 3:21
47. – 50. Wonderful Counselor, Mighty God, Everlasting Father, Prince of Peace – "For to us a child is born, to us a son is given, and the government will be on his shoulders. And he will be called Wonderful Counselor, Mighty God, Everlasting Father, Prince of Peace." Is. 9:6
All this…and so much more.
He alone is worthy.
Jesus.
"Dear God,
Help us to focus on the greatest gift of all this season, and the whole year through. Thank you for sending your one and only Son, that we might be saved through Him.
In the powerful Name of Jesus,
Amen."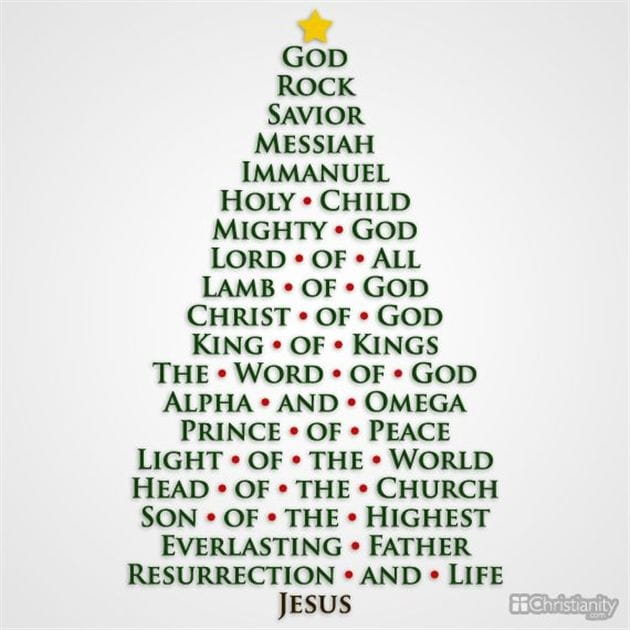 (Image via Christianity.com)
Debbie McDaniel is a writer, pastor's wife, mom to three amazing kids (and a lot of pets). Join her each morning on Fresh Day Ahead's facebook page, http://www.facebook.com/DebbieWebbMcDaniel, for daily encouragement in living strong, free, hope-filled lives. Find her also at http://twitter.com/debbmcdaniel and http://www.debbiemcdaniel.com.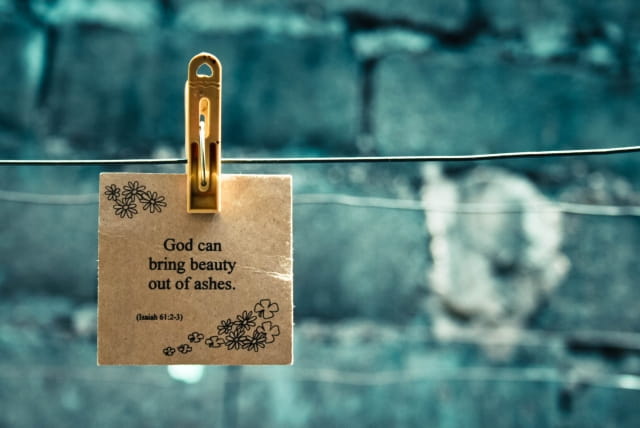 Throughout the Bible and ancient practices, ashes have often been the symbol of deep repentance and grief.
As the days of Lent are acknowledged each year, we see all around us the visual reminders of ashes on foreheads, and we are reminded of this one Truth, "…for dust you are and to dust you will return." Gen. 3:19
Not exactly a nice, happy thought to get your day going. But the reality of it all sinks in deep. Because, as many of us know, life is not always "happy."
Sometimes it hurts.
Sometimes it's hard.
Sometimes it's dark.
And it leaves its mark, like ashes of grief, in the deepest parts of our souls, where no one but God can really see.
You may understand if…
- You've ever lost a loved one or had to say good-bye too soon, left to journey through dark days of grief, wondering if you'd ever be able to carry on without them at your side…
- You've ever received a hard diagnosis, faced the fear of the unknown, and felt the effects of disease and pain...
- You've ever set at the bedside of a dying friend, and held a hand that once was strong, whose life had been cut short from the ravages of cancer…
- You've ever been to a funeral for a sweet baby, or a precious child, and watched endless tears flow from hurting souls of a Mama and Daddy….
- You've ever been deeply wounded, betrayed, abused, or mistreated…
- You've ever walked through the fire of hard situations and wondered if you'd come out the other side...
Yes, it's true, life is not always happy. It's not always easy. It deals harshly sometimes, it seems unfair, and we may wonder where God is, or why He didn't stop that difficult event or illness from happening.
Job was there too. This righteous man who loved and honored God. Yet he lost everything. It crumbled around him, all he held dear. And he knew without God, he was nothing. And we find him in the beginning of the book of Job, "…he sat in the ashes." Job 2:8
Daniel was there. He and the people had suffered under captivity, he prayed to God on behalf of his people, that God would have mercy. He repented, and confessed his own sin, his deep need for Him. He knew where true strength and help came from, "Then I turned my face to the Lord God, seeking him by prayer and pleas for mercy with fasting and sackcloth and ashes." Daniel 9:3
Tamar was there. She had trusted and yet was betrayed. David's own daughter had been taken advantage of, raped, and she was left on her own, alone, with no hope for her future, to pick up the broken pieces of shattered life. "And Tamar put ashes on her head and tore the long robe that she wore. And she laid her hand on her head and went away, crying aloud as she went." 2 Sam. 13:19
And they may have wondered too...
Where was God in it all? Where is He now? Deep grief, crime, captivity, illness, death of loved ones, shattered hope, and broken dreams?
His Truth says this: He was there. In the midst of it all.
And though we may not always see it, or feel it, or even understand it, we can know beyond a doubt, that He is now. Still. He is with us.
For He will never leave us or forsake us, His love for us in greater than we could ever imagine, though we live in a world where we face trouble many days.
Jesus reminds us in John 16:33, "In this world you will have trouble, but take courage, for I have overcome the world."
And that's the key to the ashes that cover our days in this life. The deeper Truth that shines through every bit of our grief, and pain, and sin, is this, Christ came to set us free. Christ came to redeem. Christ came to bring hope. Christ came to bring beauty from ashes.
"The Spirit of the Sovereign Lord is on me, because the Lord has anointed me to preach good news to the poor. He has sent me to bind up the brokenhearted, to proclaim freedom for the captives, and release from darkness for the prisoners, to proclaim the year of the Lord's favor and the day of vengeance of our God, to comfort all who mourn, and provide for those who grieve in Zion - to bestow on them a crown of beauty instead of ashes, the oil of gladness instead of mourning, and a garment of praise instead of a spirit of despair. They will be called oaks of righteousness, a planting of the Lord for the display of his splendor." Is. 61:1-3
He never intends for us to stay stuck in our sin, pain, or deep sorrow. He heals and restores, He calls us onward, He reminds us that in Him, we have great purpose and hope.
There's beauty and greatness behind every mark of darkness. The ashes will fall away, they don't stay forever, but His greatness and glory shine forever through every broken place and flaw we've struggled through.
He conquered death. He lives forever. He reigns in glory. And we have victory in Him.
Take courage dear friends who are facing deep battles. He is greater than any enemy we face in this life. We overcome because He has overcome and our lives are hidden in Christ. May God cover you with peace, may He bring healing in the face of hard news, may He bring deep, abiding joy that makes no sense to the world, may He bring comfort and care as He wraps you in His arms. The God of miracles fights for you today, and He is Mighty.
There's still beauty ahead...straight out of ashes.
Christ redeems.
Grace.
Debbie McDaniel is a writer, pastor's wife, mom to three amazing kids (and a lot of pets). Join her each morning on Fresh Day Ahead's facebook page,http://www.facebook.com/DebbieWebbMcDaniel, for daily encouragement in living strong, free, hope-filled lives. Find her also at http://twitter.com/debbmcdaniel and http://www.debbiemcdaniel.com.
Often in the midst of a fresh new year, in the hope of all it can bring, there's an ache that burdens us deep inside.
As believers we know where true hope is found. We're grateful for the love and forgiveness of Christ. We've been set free. Redeemed for His purposes.
And yet not everyone shares our desire to walk close and stay connected to God in this life. There are some we love who have pushed away any need of Him, they've chosen another path. And maybe they've bought into the lie; that other things can satisfy. Maybe out of hurt or misunderstandings, they've walked away. Broken relationships, pride, or harsh words may lead some to stay distant. There's a deep rift that seems almost impossible to ever reach.
They might even be right there beside us, a part of our family, or live in our homes, but spiritually, their hearts are far away…
Lost.
Wandering.
Searching.
Drifting.
No matter what the reason, or how far gone one seems to have traveled, it doesn't change this one truth. God's love reaches. It's never too short to save, He's never too weary of extending more grace.
His power is limitless.
His forgiveness is endless.
The very reason Christ came was to seek and to save that which was lost. He came to reach. It's what He does best. And the arm of the Lord is mighty and strong.
Yet sometimes, we lose our hope. We don't see how anything will ever change. The answer doesn't come. Maybe we get tired of praying. Of waiting. Or we fear for the future and eternal security of those we love most in this world.
We understand the reality that no one is guaranteed tomorrow. That deep burden can so tug at our souls, press on our minds, it's hard to move forward in faith.
God's hope for us this season…He is Able. Keep on praying. Don't lose heart. Don't give up. Know and believe that He is at work, often behind the scenes where we can't see. He's ordering steps. Arranging appointments. He's protecting and shielding. He's covering and caring. He desires for all to come to Him and will stop at nothing to draw our loved ones to Himself.
Prayer is powerful. And praying God's Word over those we love is speaking His Truth over their lives, as it builds our own faith. We don't have to pray from an attitude of fear and worry, but we can pray strong prayers in the authority of Christ our Lord.
A Prayer for the Lost and the Prodigal
Dear God,
You know our hearts, you hear our prayers, and care about all that concerns us. You understand the burden we carry and how we want, more than anything, to see our loved ones come to you. Help us to remember that you love them more than we ever could. And you desire to extend your great love and forgiveness, your mercy and hope.
Thank you that nothing is too difficult for you. Thank you that your power is unlimited and you came to set the captives free. Thank you that you wait, arms open, for the prodigal to return, that you look for his arrival to lavishly celebrate that he's come home.
We praise you for you are Redeemer and Rescuer, Savior and Lord. We know and believe that there's no pit so deep that your love can't reach us still. We understand that your mercies are new every morning, and your faithfulness is great.
Lord, we ask that you would halt the plans of the enemy over these we love as we bring them before you right now. We pray that his schemes be demolished and that your plans for good, for a future and hope, would prevail. Would you open blind eyes that they might see your Truth. Would you rescue those walking in darkness and heal the deep wounds of those who've been hurt.
We pray for the miraculous intervention of your Spirit to draw them to yourself, to work strong on behalf of our loved ones who are lost and wandering.
For you came with good news, to heal the brokenhearted, to proclaim freedom for captives and release for the prisoners.
Though we deserved penalty for our wrong, you stood in our place and took the blows on our behalf. You choose to die, so that we can live. Forever and free.
Lord, forgive our unbelief. Forgive the times we've doubted that you could ever change a distant heart. Forgive our hard-heartedness, our weariness, or forgetfulness to "pray continually."
Thank you that you never give up on us.
Remind us of how you've changed our own hearts. How your miracle of life and hope has sprung up deep within our souls.
We love you Lord, we need you, and we thank you that you hear our prayers and are at work even now.
Powerfully. Faithfully. Miraculously.
Thank you for the gift of our Savior, God with us. Thank you for your goodness and love…
In Jesus' Name,
Amen.
11 Verses of Hope that Remind Us God Is at Work, Saving the Lost and Restoring the Prodigal:
"The Spirit of the Sovereign Lord is on me, because the Lord has anointed me to proclaim good news to the poor. He has sent me to bind up the brokenhearted, to proclaim freedom for the captives and release from darkness for the prisoners…" Is. 61:1
"For the Son of Man has come to seek and to save that which was lost." Luke 19:10
"…With man this is impossible, but with God all things are possible." Matt. 19:26
"Jesus answered, "I am the way and the truth and the life. No one comes to the Father except through me." John 14:6
"He brought me up out of the pit of destruction, out of the miry clay, And He set my feet upon a rock making my footsteps firm." Ps. 40:2
"The thief comes only to steal and kill and destroy. I came that they may have life and have it abundantly." John 10:10
"No one can come to me unless the Father who sent me draws him…" John 6:44
"I will feed my flock and I will lead them to rest," declares the Lord God. "I will seek the lost, bring back the scattered, bind up the broken and strengthen the sick…" Ez. 34:15-16
"The steadfast love of the Lord never ceases; his mercies never come to an end; they are new every morning; great is your faithfulness." Lam. 3:22-23
"What man of you, having a hundred sheep, if he has lost one of them, does not leave the ninety-nine in the open country, and go after the one that is lost, until he finds it?" Luke 15:4
"The Lord is not slow to fulfill his promise as some count slowness, but is patient toward you, not wishing that any should perish, but that all should reach repentance." 2 Pet. 3:9
Debbie McDaniel is a writer, pastor's wife, mom to three amazing kids (and a lot of pets). Join her each morning on Fresh Day Ahead's facebook page, http://www.facebook.com/DebbieWebbMcDaniel, for daily encouragement in living strong, free, hope-filled lives. Find her also at http://twitter.com/debbmcdaniel and http://www.debbiemcdaniel.com.