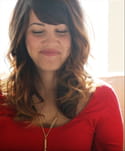 As a 24 year old, almost college graduate with very little authority in the grand scheme of world issues, the Church is one thing I can speak to.
I was raised in the Church.
I am the daughter of a salesman turned pastor and the wife to a worship leader/church planter/middle school pastor.
We got married in the Church.
I work at the Church.
I've volunteered in the Church.
I've been a part of mega churches, growing churches, celebrity churches and churches with less than 25 people in attendance.
I've led worship at churches with well established teams and professional bands and I've led at churches with mediocre talent but surrendered hearts.
I've been in the middle of one gruesome church split and two inspiring church plants.
I've seen churches grow over night and churches close before their first birthday.
But though time and experience can create insight, I believe what gives me the authority on speaking to and from the Christian Church is that like 37% of unchurched adults (# not including those still attending church), I have been burned by the Church.
I understand fear. I understand anger. I understand being vulnerable and being judged. I understand because I've been on both ends of that phone line. I've been hurt and I've been the one to hurt others. I am both offender and offended and that, I believe, gives me some sliver of a substance to speak out on the topic of Church.
My hope for this series is to reignite the flame of conversation to a dialogue that can so often be suppressed, by bringing a little more understanding to the who, what, when, where, why and hows of the Christian Church. I hope you will journey with me and your feedback and insight is always welcome in the comments section.
"This mystery is that the Gentiles (you and I) are fellow heirs, member of the same body and partakers of the promise in Christ Jesus through the Gospel, so that through the Church, the manifold wisdom of God might now be made known to the rulers and authorities in heavenly places." -Ephesians 3:6&10
Let's re-discover together.
To Connect with Julianna more, find her on Facebook, Twitter, and her Blog
Check out juliannamorlet.com to follow this series
Have something to say about this article? Leave your comment via Facebook below!
About Julianna Morlet
Julianna Morlet is the girl behind the lifestyle blog, The Girl That Sings. Her blog is focused on her journey as a homemade singer, writer, speaker. If she could sum up who she is in one sentence it'd be, "A visionary idealist who wishes to conquer the world before her 25th birthday." She is the eldest of six children, and is being well-seasoned and fashioned by this life. From sexual abuse, to a blended family, to a baby sister with leukemia, to college in the mid-west and her journey as a homemade singer and worship leader, she has been led to a faith in God that cannot be shaken. You can find her at juliannamorlet.com, Facebook, and Twitter.
Example: "Gen 1:1" "John 3" "Moses" "trust"
Advanced Search
advertise with us
Recently by Julianna Morlet
Recently on Crosswalk Blogs