Can Someone Place A Curse On Me For Bad Things To Happen?
Dr. Roger Barrier, Preach It, Teach It
Wednesday, February 27, 2013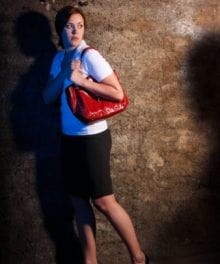 We must consider that we have a demonic adversary who has a backpack full of dirty and deceitful spiritual tools designed to inflict harm and destruction upon unsuspecting Christians.
God gives us a number of spiritual tools to resist, incapacitate and frustrate Satan in his attacks against us. I will mention them momentarily.
If we define "curse" as wishing bad things to come to someone or to something then I suppose that we can consider the death threats I've received over the years as curses. I own two bullet-proof vests. No one told ever me told me that I would need even one. Death threats aren't over in one week.
I remember preaching for over six months in my new vest while living in fear that Bill J would make good on his threat to kill me. He was angry with me for allowing his wife to give an offering to our church. Unfortunately, I was not the only one he was cursing.
One night, Bill J began a murder spree that killed two men in Sierra Vista and was on his way to Tucson to kill again when the police encircled him and he committed suicide in his car. The police found 9 guns and 400 rounds of ammunition in the front seat--and a bazooka at his house. Fortunately, this undeserved cursedid not come to rest on me.
Few of us have curses as dramatic as Bill J had for me and eleven others.
However, let's assume that there have been times when we have hurt or disappointed people. Depending upon how much we hurt them and their ability to forgive, they may consciously or unconsciously wish harm upon us.
The Bible is full of cursing. The word "curse" appears almost 200 times in the Bible. Therefore, it is a significant issue for us to address.
The Bible begins with God Almighty doing a lot of cursing.
We don't read three chapters into Genesis before God Almighty began to curse. He cursed Satan for tempting Adam and Eve into sin (Genesis 3:17). He indirectly cursed all mankind when He cursed the ground so that weeds would sprout and man would work hard and sweat profusely in order to make a living from the cursed earth (Genesis 3:17-19). In Genesis 4:10-12 God placed a curse upon Cain for killing his brother. All of these curses were well deserved.
As we read through the Bible we quickly discover that God provided blessings to those who obeyed Him and cursed those who disobeyed Him.
To curse is to wish that bad things happen to someone or something. God cursed only as a punishment for not obeying him.
On the other hand, to bless is to wish that good things happen to someone or to something. God promised blessings to those who carefully followed His commands.
Deuteronomy 27-30 is a great example of the God who both blesses and curses.
InDeuteronomy 28, God announced to Israel that if they fully obeyed His commands He would pour out great blessings upon them. They would receive the following blessings: safety in travel; healthy children; bountiful crops; increased live stock, abundant food; victory over enemies; full and overflowing barns; success with all of their endeavors, successful investments; abundance of rain; and primacy over all other nations.
It doesn't get much better than that.
On the other hand, God was just as determined to bring curses upon Israel if they ignored His commandments: "However, if you do not obey the Lordyour God and do not carefully follow all his commands and decrees I am giving you today, all these curses will come on you and overtake you" (Deuteronomy 28:15).
God is not the only one in the Bible who pronounced curses. Most of the curses in the Bible involve one person cursing another.
Have something to say about this article? Leave your comment via Facebook below!
advertise with us
Example: "Gen 1:1" "John 3" "Moses" "trust"
Advanced Search
Listen to Your Favorite Pastors