Grounds for Biblical Divorce
Dr. Roger Barrier, Preach It, Teach It
Thursday, July 18, 2013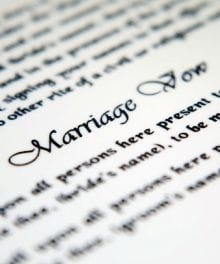 Editor's Note: Pastor Roger Barrier's "Ask Roger" column regularly appears at Preach It, Teach It. Every week at Crosswalk, Dr. Barrier puts nearly 40 years of experience in the pastorate to work answering questions of doctrine or practice for laypeople, or giving advice on church leadership issues. Email him your questions at roger@preachitteachit.org.
In order to lend some credibility to my comments, you may need to know that I've counseled married, remarried, cohabitating and divorced couples and individuals for over forty years. Nothing surprises me anymore. Of the hundreds of letters that I receive to Ask Roger, almost one-half of them deal with marriage issues.
While the issues in marriage and cohabitating remain much the same, I'm not the same. When I first began pastoring (at age 20) the rules for divorce were clear. First, adultery was always grounds for divorce (Matthew 5:31-33). Second, a Christian married to an unbeliever may get a divorce if the unbeliever wants to get out of the marriage (1 Corinthians 7:12-16).
In those days it was easy for me to apply the rules. People either obeyed them or they didn't. If they didn't they weren't really welcome in our fellowship.
I look back with sadness. A lot of people in broken marriages turned to the church for help and comfort and all we had to offer were two rules.
The more contact I've had with those divorced and divorcing, and with people who needed to get out of miserable, dangerous, abusive and broken marriages, the more my heart aches. Too many situations simply don't fit the rules.
Let me give you an example of a letter that I recently received from a woman with two daughters. She is tragically trapped in a marriage sham but feels is obligated to keep married because God will punish her if she divorces the miserable dead beat.
Dear Roger,
I am 23 years old, and I got married when i was 19. I've got 2 kids... as of right now my husband is passed out. He was drunk and he came home and picked a fight and when I told him I just want to sleep he punched me and grabbed my hair and said I don't care about him. I just didn't want to talk to him...I really don't know what to do.. I love my two daughters so much...I don't want them to grow up and see that they don't have their parents together..Please pray for me and my daughters. Today is Sunday; I'm supposed to go to the church, but I can't open my eyes cause I've been crying all night..Please help me pray for me and my daughter...
Today, I try to interpret the Bible's teachings on divorce - and there are many - as a selection of godly principles. With this approach, I find the Scriptures full of help which provides much truth to work with in helping hurting people.
No two marriages are alike. Each needs individual attention. Any decision to divorce - or to recommend it - comes only after a careful consideration of a multitude of factors. Prayer and seeking God's will in every situation is essential.
1. Adultery is always grounds for divorce (Matthew 5:31-32).
2. A Christian may divorce a non-Christian if the non-Christian wants to divorce (1 Corinthians 7:12-16).
3. Physical abuse, and in many cases emotional, cruel and/or mental abuse may mean that it is time to consider abandoning the marriage (Malachi 2:16).
Have something to say about this article? Leave your comment via Facebook below!
advertise with us
Example: "Gen 1:1" "John 3" "Moses" "trust"
Advanced Search
Listen to Your Favorite Pastors