How Can Two Families Be Blended Successfully?
Dr. Roger Barrier, Preach It, Teach It
Wednesday, April 11, 2012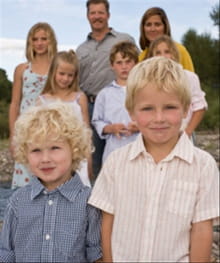 Solomon'sproverbs contain many, many impassioned pleas to have only one wife! In fact at the end of his life he advised us to "rejoice with the wife of our youth" (Proverb 5:18). He had 70 wives and 300 concubines. Looking back, the multiple families he created were more trouble than they were worth. Solomon grew up in a blended family. He didn't want anyone else to have to go through what he went through."
God and Solomon were on the same page when they both advised, "Make your first marriage work." One man in our congregation said: "If I had just worked on my first marriage, I would not have gotten divorced. I'm the same guy in the second marriage that I was in the first marriage. I gave up too easily."
Nevertheless, when all is said and done, don't be discouraged. Families can be blended. I know quite a few who have done it successfully even though it doesn't come naturally -- or easily. Everyone I know who succeeded testify that the struggles were worth it!
By the way, the Old Testament practice of marrying multiple wives is known today as bigamy and is against the Law. In America today, believe it or not, bigamy is widespread. We call it "serial polygamy" — we have several husbands or wives over a life time — just not at the same time.
I would like to share a some of the information that I have gathered over the years about successfully blending marriages.
Most of the practical advice I know came from the suggestions of Christian speaker, author, and counselor, Craig Massey — much of which is outlined in the concepts which follow.
Massy writes: "Blended families have two extra stressors that God never intended. First is someone else's ex. Second is someone else's child! Stress in blended families is not doubled. It goes up exponentially."
Here are some other factors that can hinder successful blending.
1. Finances are often given to more than one family.
2. The blended family is born of loss, failure, hurt, and grief. Everyone needs comforting.
3. Everyone in a blended family has a previous history with ingrained living patterns and already built-in value systems.
4. The parent/child bond predates the married couple. A parent and children from a first marriage form a very tight system. There's little time for the new couple to bond before they are thrown into the complex role of parent someone else's children.
5. The individuals often lack good conflict resolution skills.
6. Complex, informal alliances form which often exacerbate existing dysfunctional relationships.
Massey emphasizes that If a step-family is going to fall apart, it usually happens in the first two or three years. Unfortunately most blended couples don't feel the need help until it is way too late.
Let me share several suggestions that you may find helpful in blending two families into one.
1. Clarify expectations (Proverbs 3:13-15). It is foolish to think that the blended family members will feel like, or relate to each other like a biological family. However, it helps when the children can see people decide to work together, love each other, and begin to form new bonds.
2. Mourn the losses (2 Samuel 12:15-25). Everyone grieves the failure of their original family after a divorce or death. Understanding, patience, wisdom, comfort and love are essential for all.
3. Strengthen your marriage (Ephesians 5:21-33). The weakest link in the blended family is the marriage relationship. Therefore, make every effort to invest deeply into the life of your new spouse. Massey writes, "I know of one Christian stepmom who said, 'It was the children — not my husband — that I wanted to divorce.'"
4. Help the children understand the truth of what is happening (Matthew 18:1-6). Unfortunately, the majority of children whose parents divorce blame themselves for the break ups: "If I hadn't been born when I was, I think they would still be together. I should have just acted better when I was little." Children are seldom led into an understanding of what really happened to cause their parent's divorce. Unfortunately, they must put the pieces together as best they can.
Have something to say about this article? Leave your comment via Facebook below!
advertise with us
Example: "Gen 1:1" "John 3" "Moses" "trust"
Advanced Search
Listen to Your Favorite Pastors