How Do We Know God's Will in Our Life?
Dr. Roger Barrier, Preach It, Teach It
Thursday, June 21, 2012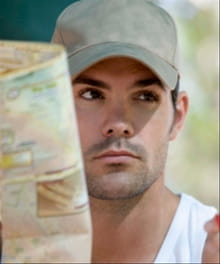 Each phrase is a prerequisite for discovering God's will.
Trust in the Lord
How willing are you to put your life in His hands whatever His will turns out to be?
The man in my office wanted to know God's will for His life. I asked him, "Will you commit to do God's will whatever It might be?"
"First, I want to see what it looks like," he said.
"That's not how it works," I said.
"Well, give me a hint."
"Sorry, I said, "God doesn't bargain."
He went away.
A little boy walked down the beach, and as he did, he spied a matronly woman sitting under a beach umbrella on the sand. He walked up to her and said, "Are you a Christian?"
"Yes."
"Do you read your Bible every day?"
She nodded her head. "Yes."
"Will you hold my quarter while I go swimming?"
Do you trust God enough to let Him hold your quarter?
With All Your Heart
Knowing and doing the will of God isn't a "spiritual technique" that we use occasionally as needed; it's a committed lifestyle that involves everything we do.
The well-known practice of asking for a person's "John Hancock" comes from the most obvious signature on our Declaration of Independence. John Hancock's name is the only signature that can be identified by the casual observer … and that's exactly what he intended.
His expressed intent was to make certain King George III could read his name without the aid of glasses. It was a bold declaration of his personal commitment to the cause for which he was willing to die.
John Hancock's overly legible signature hit the target at which he aimed. During the Revolutionary War, King George offered amnesty to all of the Americans who were willing to stop the war. Hancock was intentionally omitted from this proposition. His zealous signature informed the king there was no turning back.
"With all your heart" means that if we want to know and experience the "straight paths" we have already given our "John Hancock" to the Lord Jesus Christ.
Lean Not on Your Own Understanding
It is not good to seek God's will alone, so said Solomon in Proverb 15:22: "Plans fail for lack of counsel, but with many advisers they succeed."
Wise and loving family, friends and spiritual Christians can often see dangers and detours that are hidden from us. They can scout for open doors that we might easily miss while we look in other directions.
Three men were marooned on an island. Suddenly a genie appeared and said, "What would you like to have? Any wish is yours."
One man said, "I miss my family in L.A." Whoosh – and he was gone. Another said, "I miss my brokerage firm in Boston. I wish I were back at my desk." Whoosh – and he was gone.
Then, the third man said, "I'm lonely. I wish my friends were back here."
Family, friends and not our only sources for information that keep us from living on our own understanding.
"The will of God is always open to reason," the Bible says. Therefore, I think that it's important to come up with a list of pros and cons which is examined by others. This procedure helps clarify our thinking and sort out the issues as we try to discern His will.
Solomon agreed in Proverb 19:2: "It is not good to have zeal without knowledge, nor to be hasty and miss the way."
In All Your Ways Acknowledge Him
Rhonda understood clearly when I asked her what God's will was for her life. She replied, "God's will for my life is to bring Him honor and glory."
Have something to say about this article? Leave your comment via Facebook below!
advertise with us
Example: "Gen 1:1" "John 3" "Moses" "trust"
Advanced Search
Listen to Your Favorite Pastors