How to be a Spiritual Father (or Mother)
Dr. Roger Barrier, Preach It, Teach It
Wednesday, June 13, 2012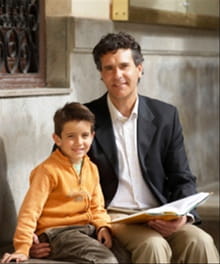 Editor's Note: Pastor Roger Barrier's "Ask Roger" column regularly appears at Preach It, Teach It. Every week at Crosswalk, Dr. Barrier puts nearly 40 years of experience in the pastorate to work answering questions of doctrine or practice for laypeople, or giving advice on church leadership issues. Email him your questions at roger@preachitteachit.org.
This article is Part Two of a four-part series. You can read Part One here.
This well-known story comes from the annals of World War II. It took place over fifty years ago, however, it is as relevant this morning. Near the end of the war an American soldier was killed. Five of his comrades set out to bury him. They saw a little church down the road and asked to bury their friend in that little church graveyard.
The priest asked, "Was your friend a Catholic?"
"No."
"I'm really sorry, but this is a Catholic church and this is a Catholic graveyard."
Downhearted, they stepped just outside the fence, dug a grave, and laid their friend to rest.
The next morning, they received orders to leave the area. They returned to the church for one parting farewell. But, they couldn't find the grave. Finally, they knocked on the door and said to the priest, "We know we buried our buddy over here outside the fence, but we can't find his grave. Can you help us?"
The priest replied, "I sat up the first part of the night feeling sorry for what I said to you. I spent the second part of the night moving the fence."
Spiritual mothers and fathers have a marvelous way of moving the fences, and making us one.
There is no secret to becoming a spiritual mother or father.
When new Christians ask what comes next, we often answer, "Well, you need to go to church, read your Bible, and pray." That sounds so trite, but it's not! In prayer, we talk to God. In the Bible, God speaks to us. In church, we interact with God's people. Spiritual fatherhood and motherhood can only flourish with a balanced dose of all three.
In addition, we must have one desire that transcends all others.
A.W. Tozer wrote, "Every man or woman is just as spiritual as he or she wants to be." No one becomes a spiritual father or mother by osmosis or accident.
"Dear Father, I want to become a spiritual father or mother at any price." That is one prayer God guarantees He will answer.
Lest we think too highly of ourselves, we must understand that other stages come first. We are reborn as infants, grow into childhood, survive spiritual adolescence and finally become spiritual fathers and mothers.
In my experience (with several exceptions), maturing as a spiritual father or mother takes at least twenty to twenty-five years.
(For those so inclined, I have listed some of the characteristics of each of the first three spiritual levels at the end of this teaching).
Now is the time to grow up. Let me share from a biblical perspective just what father and motherhood looks like.
Spiritual Parents Partner with Jesus in the Care and Nurturing of Others
Jesus used many metaphors to describe Himself. But, He loved best to think of Himself as a shepherd. The crowds in Galilee reminded Him of sheep without a shepherd. He was sent to save the lost sheep of the house of Israel. He pictured Himself one day separating sheep from goats. He said, "I know every sheep by name." He declared, "The Good Shepherd lays down His life for the sheep" (John 10:11).
Have something to say about this article? Leave your comment via Facebook below!
advertise with us
Example: "Gen 1:1" "John 3" "Moses" "trust"
Advanced Search
Listen to Your Favorite Pastors