How to be a Spiritual Father (or Mother)
Dr. Roger Barrier, Preach It, Teach It
Wednesday, June 13, 2012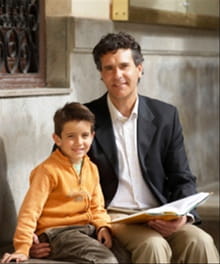 Sure enough, fifty men were there, gorging on pizza. Only one woman was in the restaurant. Trying to be good, I began with a salad. But soon, I stepped up to the pizza buffet.
Later we told Julie where we had eaten. "I had a salad," I said.
"You also had six pieces of pizza," she said.
"How did you know I had six pieces?"
"I know you."
(They were small pieces).
While no one will exhaust the fathomless depths of God's heart, spiritual mothers and fathers know Him like few others. They have invested years walking closely with Him—experiencing His life, feeling His feelings, and even hurting for Him when He hurts.
I tell my students that one of the marks of growing to maturity is that we can say after twenty or thirty years of being a Christian, "I think I am finally beginning to know the heart of God."
Spiritual Mothers and Fathers View Life and Experiences From God's Perspective
Can you imagine that life looks differently from the resurrection side of the cross than it does from the children's side? The view from the mountaintops is quite different from the view from the valley.
During His ministry, Jesus often told His followers that He was going to Jerusalem where He would die and return to life. They never did figure it out. But after they witnessed the cross and resurrection, everything looked different. On Easter Sunday morning, the events of the past three days suddenly made sense.
In most difficult situations spiritual children ask: "What's God's will?" "What's going on?" "What should I do?" "Why did God do this?" "Why did God allow that?" "What He is doing makes no sense."
Spiritual mothers and fathers respond differently. When we encounter the same situations, we talk it over with God and begin to get His perspective from the resurrection side. Now, things begin to make eternal sense.
I remember the far-reaching perception of a young father I once led to Christ. One Thursday evening his four-year-old son, Nathan said, "Daddy, my head hurts real bad." On Saturday, I sat with mom and dad in the I.C.U. as Nathan was removed from the respirator. It took about thirty minutes.
Several days later I was talking to dad. He'd done a lot of reflective soul searching when he said to me, "Roger, I think that maybe God is going to make me a spiritual father instead of just an earthly one." I couldn't believe my ears. But, I wasn't surprised; he was looking from the resurrection side of the cross.
Spiritual Mothers and Fathers Refuse to be Dogmatic Because of Their Growing Understanding of the Infiniteness of God
Spiritual children often have a rather rigid, narrow, arrogant mindset regarding God and the Bible: "I know what the Bible says. I've read it. If you haven't experienced it like I have or see it like I see it, then you are wrong."
In Romans 11:33 Paul wrote, "Oh, the depth of the riches of the wisdom and knowledge of God! How unsearchable his judgments, and his paths beyond tracing out!"
As we climb the mountains of maturity, we discover that there are more mountain peaks to scale than we ever imagined. No one can exhaust the infinite depths of God.
The people who delude themselves into thinking that they have a monopoly on understanding God are like the man who waded out into the surf off the California coast, looked up and down the coastline, tasted the water, felt the waves, and cried out gleefully, "I know what the Pacific Ocean is like." At the same time, a man in China waded out three or four yards into the Pacific, made the same observations, and declared, "I know what the Pacific Ocean is like."
Have something to say about this article? Leave your comment via Facebook below!
advertise with us
Example: "Gen 1:1" "John 3" "Moses" "trust"
Advanced Search
Listen to Your Favorite Pastors