How Will I Know When God's the One Who's Speaking?
Dr. Roger Barrier, Preach It, Teach It
Wednesday, May 23, 2012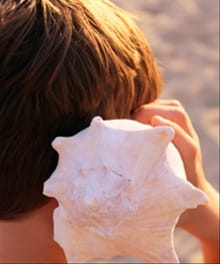 Editor's Note: Pastor Roger Barrier's "Ask Roger" column regularly appears at Preach It, Teach It. Every week at Crosswalk, Dr. Barrier puts nearly 40 years of experience in the pastorate to work answering questions of doctrine or practice for laypeople, or giving advice on church leadership issues. Email him your questions at roger@preachitteachit.org.
During the worship service a woman whispered quietly to Julie: "I have a word from the Lord for you. You will be like the prophetess, Anna, in Luke 2. You will be widowed after seven years and spend the rest of your life ministering in sweet service to Jesus."
"Don't you see me standing here?" I wanted to ask. "Julie's my fiancé. We're getting married in June."
I held my tongue and looked at the young girl who would soon be my wife. If this nosy woman were right, I'd be dead in seven years. On our seventh anniversary I stayed awake until midnight just to be sure that the voice she had been listening to was not God's.
God's voice is not the only voice that speaks. Self and Satan can both wreak havoc in the lives of Christians who are unable to distinguish among the three.
Have you ever wondered why there are so few prophets in the Bible?
God asked Hosea 1, "Do you want to hear me speak?"
"I'd love to be your prophet."
"Then, go marry a prostitute."
God asked Jeremiah, "Do you want to hear me speak?"
"God, I'm too young to be a prophet; but, I'd love to hear you speak."
So God spoke to Jeremiah 1. But the price of hearing God's message was high. The people cursed him, mocked him, tossed him in jail, and bound him in chains. They threw him in cisterns and beat him senseless. They humiliated him in stocks in the marketplaces. Worst of all, the people never believed a single word he said.
One day God commanded Isaiah 1, "Take off your clothes."
"Why?"
"Don't ask me why. Just take them off."
"Well, for how long?"
"Until I tell you to put them on again."
So Isaiah stripped off his clothes. Imagine the scene as he walked naked down the streets of Jerusalem. "Hey, Isaiah," mocked the people, "where are your clothes?"
"I took them off."
"Why?"
Can you imagine the looks when he said, "Well, I heard this voice…"?
Finally, three years later, God spoke: "Isaiah, put on your clothes and declare this word from Me: 'As I have bared your buttocks, so I will bare the buttocks of Egypt and let the Assyrians spank them.'" Can you imagine that for three years he walked around bare-bottomed and the message wasn't even for Israel (Isaiah 20)?
Hearing God speak carries a high price tag. In Exodus 20:18-19 the Israelites refused Moses' invitation to come to the mountain and hear God speak: "When the people saw the thunder and lightning and heard the trumpet and saw the mountain in smoke, they trembled with fear. They stayed at a distance and said to Moses, 'Speak to us yourself and we will listen. But, do not have God speak to us or we will die.'"
Have something to say about this article? Leave your comment via Facebook below!
advertise with us
Example: "Gen 1:1" "John 3" "Moses" "trust"
Advanced Search
Listen to Your Favorite Pastors