How Will I Know When God's the One Who's Speaking?
Dr. Roger Barrier, Preach It, Teach It
Wednesday, May 23, 2012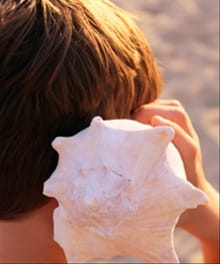 When we hear the voice of God nothing is ever the same again. Hearing from God produces a dramatic long-term calling which may well alter our choices, lives, values, focuses, and behaviors.
This is a paradox. While hearing from God might cost us our lives, the voice of God opens the floodgates so that the Living Water of the Holy Spirit might flow from our innermost beings (John 7:37-39) and open the door to abundant life (John 10:10). Full love and intimacy with Jesus can occur only when we hear Him speak.
When is the last time you heard God speak? Some of us say, "Recently." Others might say, "It's been a long time." Tragically, others say, "I am not certain that I have ever heard God speak."
In a day when the secular world is crying for answers, too many Christians are stuttering.
I count at least nineteen different ways in the Bible that God speaks into the lives of His people. You may think of some more. If we have ears to hear, we can't miss what He has to say.
The voice on the phone was familiar. I'd spoken with her before. She announced that she had a message for me from God. Without pausing she launched into a detailed pronouncement that my wife Julie and I would soon suffer a divorce. I had neglected my wife, she said, and failed to build the kind of marriage that God intended for pastors; and thus, the penalty would be the forfeiture of my marriage.
I knew enough not to laugh out loud or tell her what she could do with her message. Later, I considered the implications of her words. What if she were right? After all, the pages of scripture are filled with stories of unusual people who did strange things as God led them to pronounce, "Thus saith the Lord, (fill in the blank)!"
Have something to say about this article? Leave your comment via Facebook below!
advertise with us
Example: "Gen 1:1" "John 3" "Moses" "trust"
Advanced Search
Listen to Your Favorite Pastors