How Will I Know When God's the One Who's Speaking?
Dr. Roger Barrier, Preach It, Teach It
Wednesday, May 23, 2012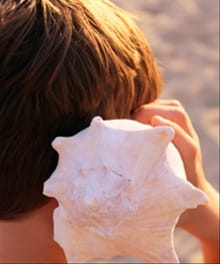 After all, there was some truth in what she said. What pastor ever spends enough time with his family? Was God upset and getting personally involved? Surely not?
I called one of my spiritual advisors. "Jack," I said, "I need your advice. I'm ninety-nine percent sure that her message was not from God. Just help me verify for certain."
He responded, "Did the warning give any hope for reconciling the marriage and avoiding the divorce?"
"No."
"When God warned of doom in the Bible, He usually provided a means for avoiding the consequences—often by repentance and/or restitution. Did the message provide any hope for averting the divorce?"
"No."
"Then the message was not from God."
"Thanks."
Over the years, I've developed a biblical checklist of what I think God's voice sounds like. The list is in broad generalizations and is certainly not complete, nor foolproof. No one point is sufficient to prove or disprove the voice of God. Nevertheless, I believe that these principles are helpful when they line up in a sensible, godly fashion.
God speaks in my innermost human spirit. Self or Satan speaks in my Soul (Hebrews 4:12).
God tends to speak with gentle leadings in contrast to what I often perceive to be the compulsive, clamoring, loud demands of Self or Satan (1 Kings 19:11-13).
God's voice produces freedom. Self's or Satan's voice often produces bondage (Matthew 11:28-30).
God tends to speak when we are consciously seeking Him. Self or Satan tend to speak with sudden intrusions of thoughts into the mind (Jeremiah 29:12-13).
When God speaks there is a definite sense that everything is under control. When Self or Satan speaks there is an inner sense that something is out of control (Psalms 37:4).
God gives clear-cut, specific directions. Self or Satan often communicates in confused, uncertain wonderings.
God convicts of specific sins. Self and Satan often accuse in broad generalities that leave a lingering sense of haunting and unfocused guilt (John 16:8).
God speaks with 100 percent truth that can be tested by the Word of God. Self and Satan often traffic in lies, deceit and half-truths (John 14:6).
God's voice always leads to a deep, abiding sense of peace. Self or Satan often do not (Philippians 4:7).
God's voice is testable and confirmed by the wisdom of many counselors (Proverbs 11:14; Deuteronomy 19:15; and Matthew 18:16).
We were considering the relocation of our church operations. Full parking lots and six weekend worship services had maxed-out our site. Standing in front of the bathroom mirror one Saturday I almost dropped my razor at the thought that flashed into my mind. Instead of going to all the trouble and expense of relocating, why not purchase the eight houses surrounding our property? We could build a new worship center and expand our parking lots to make room for new growth. I thanked God for revealing this new course of action.
I told our church leaders what God told me and led the church to make plans to purchase the adjoining houses. The surrounding subdivision deed restrictions required that a majority of the one-hundred fifty-six nearby homeowners agree with the required rezoning and sale. Six months, numerous unpleasant neighborhood association meetings, and well over one hundred irate neighbors later, we called off the deal.
Have something to say about this article? Leave your comment via Facebook below!
advertise with us
Example: "Gen 1:1" "John 3" "Moses" "trust"
Advanced Search
Listen to Your Favorite Pastors