How to Recognize the End Times
Dr. Roger Barrier, Preach It, Teach It
Tuesday, July 03, 2012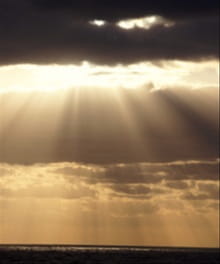 Editor's Note: Pastor Roger Barrier's "Ask Roger" column regularly appears at Preach It, Teach It. Every week at Crosswalk, Dr. Barrier puts nearly 40 years of experience in the pastorate to work answering questions of doctrine or practice for laypeople, or giving advice on church leadership issues. Email him your questions at roger@preachitteachit.org.
Dear Roger,
Here's what I thought of after your series on the end of times: You said that discerning Christians' will recognize the signs that the end is near… How can I be sure I am a discerning Christian?
Sincerely, S
Dear S,
The Bible is filled with signs as to what the end times will look like. Some signs are so specific we can't miss them. For example, in Matthew 24:15-16 Jesus pointed out one sure sign: "So when you see standing in the holy place 'the abomination that causes desolation,' spoken of through the prophet Daniel — let the reader understand—then let those who are in Judea flee to the mountains…"
Jesus expects His readers to understand the signs of the end. How will we know what to look for? We study the Scriptures. Daniel 7 describes this "abomination" and how to recognize it.
God told the prophet Daniel that when the end is near, many seemingly enigmatic verses will become clear. Probably because as the events prophesied are increasingly fulfilled, the more clear other signs will become.
As Daniel concluded his prophecy in chapter twelve, he asked God to let him in on the timing of the end-time events. God deflected his request in verse four: "But you, Daniel, close up and seal the words of the scroll until the time of the end…" (Notice that when the end is near everything will become more clear).
Daniel then asked the two angels standing nearby, "How long will it be before these astonishing things are fulfilled?"
An angel replied in verse seven, "It will be for a time, times, and half a time. When the power of the holy people has been finally broken, all these things will be completed."
The terms, "time, times and half a time" and the corresponding 3.5 years and 1260 days and 1290 days, are explained in the Book of Revelation.
Daniel confessed in verse eight that he still did not understand so once again He asked the Lord, "My Lord, what will the outcome of all this be?"
God replied in verse nine, "Go your way, Daniel, because the words are closed up and sealed until the time of the end…. None of the wicked will understand, but those who are wise will understand."
So, rest assured that discerning spiritual men and women in the Body of Christ will be able to read the signs—and will be happy to share what they see with you. Notice I said, "spiritual men and women." Jesus predicted that near the end of time many false individuals will confuse many (this, of course, is another sign in itself).
But, don't stop by depending on the insights of others. Do your own homework. Be a biblical "self feeder" and check these things out for yourself.
So that you won't have to go searching to get started, I've listed below the basic prophetical books and passages in order to help make your study a little easier.
Have something to say about this article? Leave your comment via Facebook below!
advertise with us
Example: "Gen 1:1" "John 3" "Moses" "trust"
Advanced Search
Listen to Your Favorite Pastors