How to Recognize the End Times
Dr. Roger Barrier, Preach It, Teach It
Tuesday, July 03, 2012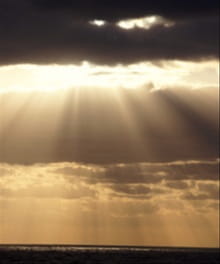 ● Psalms 2
The Psalm of the battle of Armageddon: Nations rage; God laughs; and the exaltation of Christ as Lord
● The Book of Daniel
An over view of God's dealing with human governments
A time line of events from the days of Daniel, 598 B.C. to Palm Sunday, April 6, 30 A.D.
An overview of the last seven years before the Second Coming known as the Great Tribulation which begins with a peace treaty between Israel and a confederation of European states and ends with the Battle of Armageddon and the return of Christ
The prophecy of the return of Jews from all over the world to the land of Israel to reestablish the nation of Israel (the dispersion occurred in 70 A.D. and against all odds, the return took place in 1948 A.D.)
The battle between Gog, from the land of the north (Magog), that is directly north of Jerusalem (Russia??) and the nation of Israel. Gog, who is allied with a number of African nations is soundly defeated. The battle probably occurs before the time of Great Tribulation.
The Israelites weep and repent when they see the nail-scarred hands of Christ at the second coming.
Known as the Olivet Discourse, Jesus answers the Disciples' questions about the end times and the future destruction of Israel.
A description of the rapture when Jesus comes "for His saints" and takes them to Heaven.
The swiftness and stealth of the Second Coming is detailed.
Beware of the coming Antichrist who is revealed when he sets up the Abomination of Desolation.
The Antichrist has deceptive tools to fool the world.
When "that which restrains" (either the Holy Spirit or the church) is removed from earth, the Lord's wrath is unleashed.
An outline of how to behave during the last days
A description of wicked men during the last days
The Second Coming time table is right on schedule. God is not delaying.
"The elements will be destroyed by fire."
● Jude
A picture of the destruction of ungodly men and women at the Second Coming
A three-fold picture of what man does to destroy mankind (7 Seals); what Satan does to man (7 Trumpets); and what God does to mankind (7 Bowls of Wrath)
A description of the person and ministry of the Antichrist.
The Battle of Armageddon
The Great White Throne Judgment
Tossing Satan into the Abyss of Hell
The millennium and the new Heaven and Earth
***
So, "S," in order to read the signs well and not be deceived, I recommend that you:
carefully study the Bible passages referring to the end
keep an eye on world events
Listen to spiritual men and women who listen to God for their insights into "the times of the end."
Finally, remember that Paul wrote in 1 Thessalonians 5:4: "But you, brothers, are not in darkness so that this day should surprise you like a thief…"
Have something to say about this article? Leave your comment via Facebook below!
advertise with us
Example: "Gen 1:1" "John 3" "Moses" "trust"
Advanced Search
Listen to Your Favorite Pastors