Pray for the Peace of Jerusalem?
Dr. Roger Barrier, Preach It, Teach It
Wednesday, September 26, 2012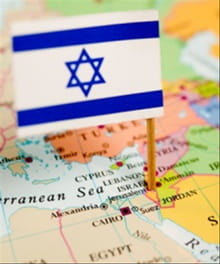 Unfortunately, the peace did not last long. Jerusalem has been a battle ground ever since the Jewish return from Babylon. The number of foreign occupations and merciless battles for control of Jerusalem is staggering: decimation by Antiochus Epiphanies (200-175 B.C.); total annihilation by the Romans (70 A.D.); multiple Moslem invasions (700-1000 A.D.); the three-fold-European Crusader waves of invasion (1000-1200 A.D.)—just to mention a few.
The current, ongoing wars between the Arab nations and Israel began in 1917 when the British took control of Palestine. In 1948 A.D. the Balfour Declaration ended British occupation and immediately the Israeli war of independence flared. Divine miracles from the hand of God alone culminated in Israel becoming a sovereign nation.
But the hostilities were far from over. The 1967 the Six-Day War, the Yom Kippur War and the present-day battles with Hezbollah will pale in comparison when all hell breaks loose with the unveiling of the Anti-Christ.
How tragic that what may well be the holiest place for three major religions is a battle ground and will continue to be so until the Second Coming of Jesus Christ!
So why pray? Because prayer can change things! Prayer often works like a safety deposit box at the bank which requires two keys to open it. The bank has a key and the bank depositor has a key. When both keys are turned simultaneously the box will open. Answered prayer often occurs when God's key (His will for a particular situation) combines with the bank depositor's key (his/her prayers). Our prayers plus His will blend powerfully. So we pray.
I am convinced that much of what Jesus desires to accomplish on earth never occurs because we never put "our keys in the box" by prayer. After all, James said, "You have not because you ask not."
Who knows how much more destruction and how many more battles might have been avoided if only we Christians and Jews had prayed.
Therefore, praying for the peace of Jerusalem is not futile.
So, we pray for the present peace of Jerusalem—knowing that our prayers can make a difference—even though we know that as prophecy is fulfilled Jerusalem will become the final battle ground.
Well, Gary, I hope this helps in some ways to answer your question.
Love, Roger
Dr. Roger Barrier recently retired as senior teaching pastor from Casas Church in Tucson, Arizona. In addition to being an author and sought-after conference speaker, Roger has mentored or taught thousands of pastors, missionaries, and Christian leaders worldwide. Casas Church, where Roger served throughout his thirty-five-year career, is a megachurch known for a well-integrated, multi-generational ministry. The value of including new generations is deeply ingrained throughout Casas to help the church move strongly right through the twenty-first century and beyond. Dr. Barrier holds degrees from Baylor University, Southwestern Baptist Theological Seminary, and Golden Gate Seminary in Greek, religion, theology, and pastoral care. His popular book, Listening to the Voice of God, published by Bethany House, is in its second printing and is available in Thai and Portuguese. His latest work is, Got Guts? Get Godly! Pray the Prayer God Guarantees to Answer, from Xulon Press. Roger can be found blogging at Preach It, Teach It, the pastoral teaching site founded with his wife, Dr. Julie Barrier.
Have something to say about this article? Leave your comment via Facebook below!
advertise with us
Example: "Gen 1:1" "John 3" "Moses" "trust"
Advanced Search
Listen to Your Favorite Pastors