Serial Polygamy: Multiple Wives, One at a Time
Dr. Roger Barrier, Preach It, Teach It
Wednesday, July 10, 2013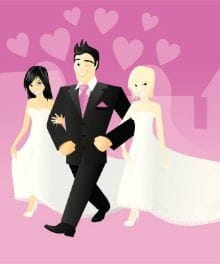 Editor's Note: Pastor Roger Barrier's "Ask Roger" column regularly appears at Preach It, Teach It. Every week at Crosswalk, Dr. Barrier puts nearly 40 years of experience in the pastorate to work answering questions of doctrine or practice for laypeople, or giving advice on church leadership issues. Email him your questions at roger@preachitteachit.org.
"Don't look now," said Steve, our associate pastor of counseling. "I see You-Know-Who sitting with his fourth wife. Wives one and three just walked up the aisle and sat down right behind them.
In the interim wives numbers one and three had become good friends. Their friendship certainly centered around their comparative misadventures marriages with Don. I don't know what happened to wife number two.
I couldn't help myself. I looked. I stared. It was obvious that You-Know-Who now realized that his two earlier wives were sitting behind him. He began to blush, probably because wives one and three were making comments loud enough for the people around them to hear.
I didn't catch it at the time, but I was seeing serial polygamy played out before my very eyes.
Serial polygamy is having more than one wife/husband, but just one at a time. Polygamy, having multiple marriage partners at the same time, is taboo in our society. In fact, in most all states it is a crime. However, having a series of monogamous marriage relationships is a way of life for many. This is serial polygamy.
I receive a lot of questions from husbands in cultures that allow or encourage polygamy. Their problem is that they recently became Christians and face the fact that the Bible defines marriage as one man and one woman for a life time. They want to do the Christian thing; unfortunately, they already have two or more wives, and two or more families and several children from different mothers.
Their questions usually sound something like this:
"Should I pick one wife and family over the others?" That is how the Bible says we are to live. But, I am the sole support for all of my wives and their children. If I pick one above the rest then the others will have no means of support and be reduced to begging in abject poverty. Most will likely starve before too long. Help!"
I received a letter like that this week from a man in India who is caught up in serial polygamy. Be sure to notice his question at the end of his letter, "Is it a sin to have two families or abandon one?"
Pastor, am 44-year-old male from India, married for 14 years & have one boy of 15 years & girl of 13 years. My wife had affair after 4 years of our marriage. However, we finally decided to carry on our marriage for the sake of the parenthood, society & family commitments.
After 2 years she started another relationship & I lost my mind. Now the problem is, I'm without guilt having a relationship with wife of another impotent man for 5 years & have a three-year-old girl of mine still living with the same man. Now she's guilty living with her husband with my child & wants to come out of her marriage.
Now my responsibility on both ends is confusing & stressing me. How do I put a stop to my problem? I still love my 1st wife but also the 2nd. I want my 3rd kid also. I don't want to hurt all my 3 kids, my wife as well as my 2nd too. Is there any Christian way to find a solution for my problem? I want to live without guilt of abandoning my 2nd & the child. Is it sin to have 2 families or to abandon one? I'm involved in ministry & church activities also.
Have something to say about this article? Leave your comment via Facebook below!
advertise with us
Example: "Gen 1:1" "John 3" "Moses" "trust"
Advanced Search
Listen to Your Favorite Pastors